How Multimedia is Helping Car Dealerships Sell Vehicles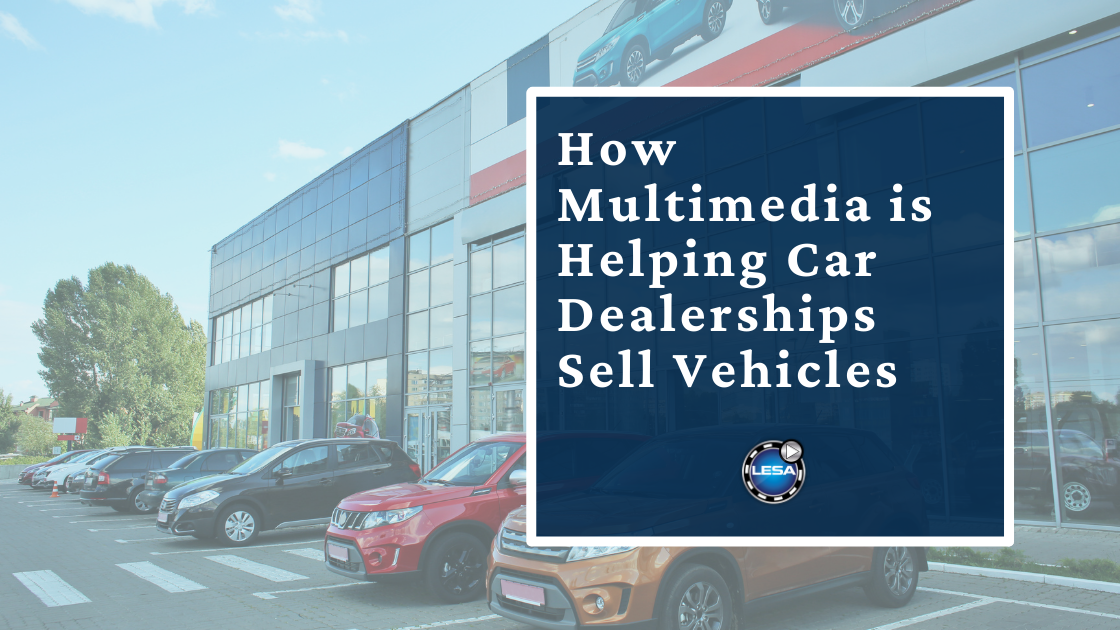 What Is The LESA Multimedia Player?
LESA multimedia player takes on a custom and innovative approach to having multimedia on a car dealership website. The LESA player allows the dealership to have numerous different features for each vehicle, with little effort. The simple tool can help empower consumers to make purchasing decisions without numerous trips to the dealership.
We talk more in depth about the player in our previous blog post, "Having a Great Website Includes Multimedia."
How Will the Multimedia Player Help Sell Cars?
LESA analyzed Google Analytics data from car dealerships to evaluate the effectiveness of the multimedia player to really discover if it was helping car dealerships sell cars. The quick answer is YES, video is absolutely helping car dealerships sell their inventory. There are four ways that video and multimedia is improving the effectiveness of your website:
Increasing session duration
Increasing pages/session
Increasing events/session
Increasing conversions
Let's take a deeper look as to how and why video is helping car dealerships sell vehicles.
Increase Session Duration
We compared a user's time spent on website when interacting with a multimedia player vs. not interacting with it. The results are astounding. A user that interacted with multimedia spent 3x the amount of time than a user that did not interact with video, increasing session duration by 300%.
In our sample data of a car dealership we analyzed, the average session duration for a user that interacted with multimedia was 10:35 compared to only 3:02 for users that did not interact with multimedia. We saw similar numbers across a dozen other dealerships.
Why does the multimedia player increase the time spent on the website so drastically? Multimedia provides an engaging and educational experience for car shoppers. It gives them the transparency and the information they need to successfully shop for a car online.
A good session duration across industry standard ranges anywhere from 2-3 minutes. As you may already know, there are a mountain of evidence that proves the more time a consumer spends on a website the more likely they're likely to convert to a buyer.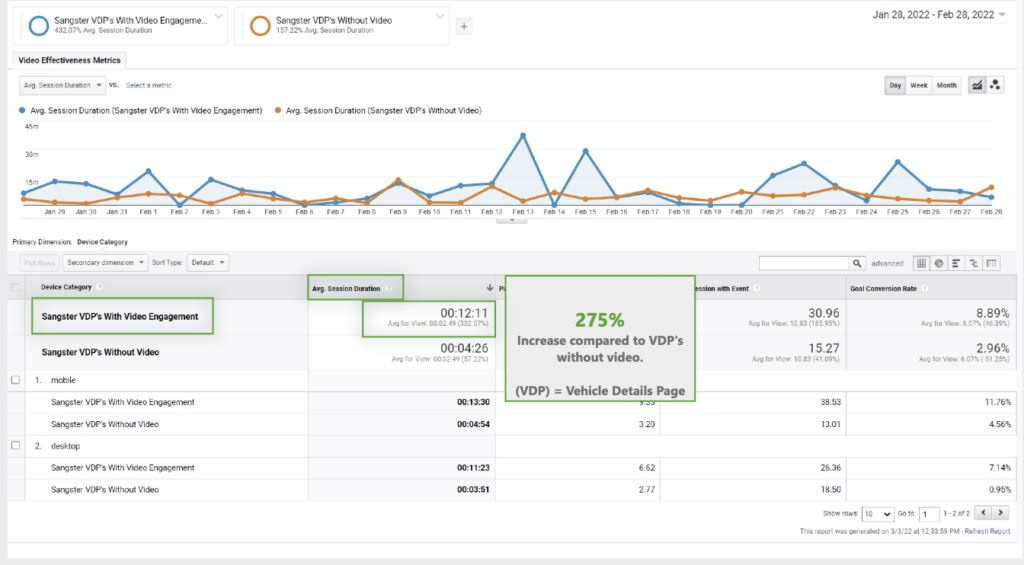 Increase Pages/ Session Duration
LESA also compared data of the average pages per session of a user that interacted with multimedia compared to a user that did not interact with video and found that video increased the number of pages viewed by 170% compared to no video. What does this mean? The dealership we observed showed that users that interacted with multimedia viewed almost 8 pages (7.92) compared to only 3.13 pages before leaving the website. This could be a huge difference for your dealership, meaning a user could potentially view 8 cars instead of 3 before leaving.
Why does the multimedia player increase pages/session? The information that video presents to car shoppers keeps them engaged and confident that they are truly getting a great preview of the car. It heightens their curiosity and results in them viewing more makes and models the dealership has to offer.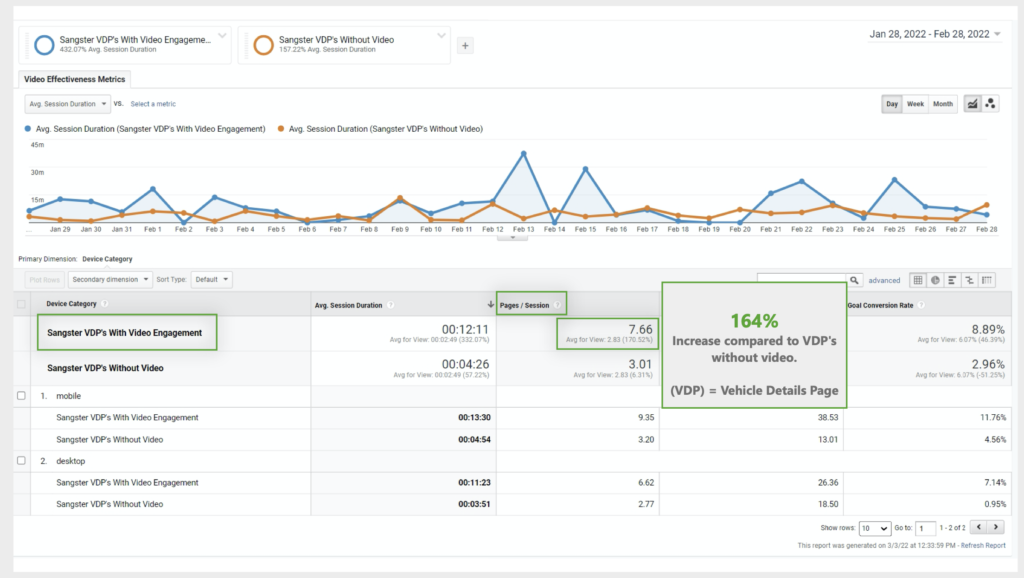 Increase Events/Session
An event is considered any activity that a user takes on your page. This could include button clicks, video plays, form submissions, looking at the description section of the vehicles, viewing the window sticker, scrolling down the page, and more.
The multimedia player also had a substantial impact on increasing events/session compared to a user experience without interacting with video. In our analysis, we found that users that interacted with video saw a 150% increase in events taken on the webpage compared to users that did not interact with video. The average number of events per session in the dealership observed was 30 compared to 12. This 2.5X increase could help your car dealership convert shoppers into buyers.
Why do videos increase events? Videos interactive and educational nature help keep users engaged on your website, resulting in a user wanting to see and explore more of the website. Empowering users to take action on your website is the goal, and videos can help users take meaningful options resulting in converting car shoppers into car buyers.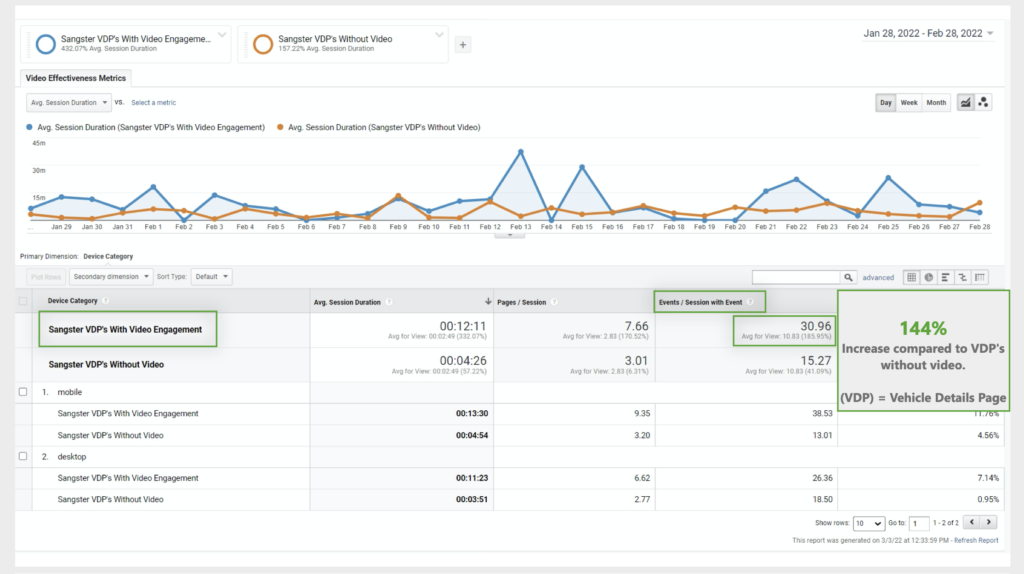 Increase Goal Conversion Rate
Finally, and most importantly, video is proven to increase goal conversion rate. Many dealerships have already set up goal conversions in Google Analytics. Goal conversions could include submitting a check availability form, engaging in chat, clicking on the phone number to call, and more. In order to track how many consumers are converting. We are looking at the same consumers who interacted with the multimedia player if they also converted through the goal conversion tracking. This allowed us to see there was a 400% increase conversion compared to consumers that did not interact with the multimedia player in the dealership we observed. The numbers were similar across over a dozen dealerships that were analyzed.
An industry standard conversion rate is between 2-4%, however, certain car dealerships using the LESA multimedia player with video on average are seeing a 14% conversion rate. This means that car shoppers really are turning into car buyers, and contacting car dealerships to take action.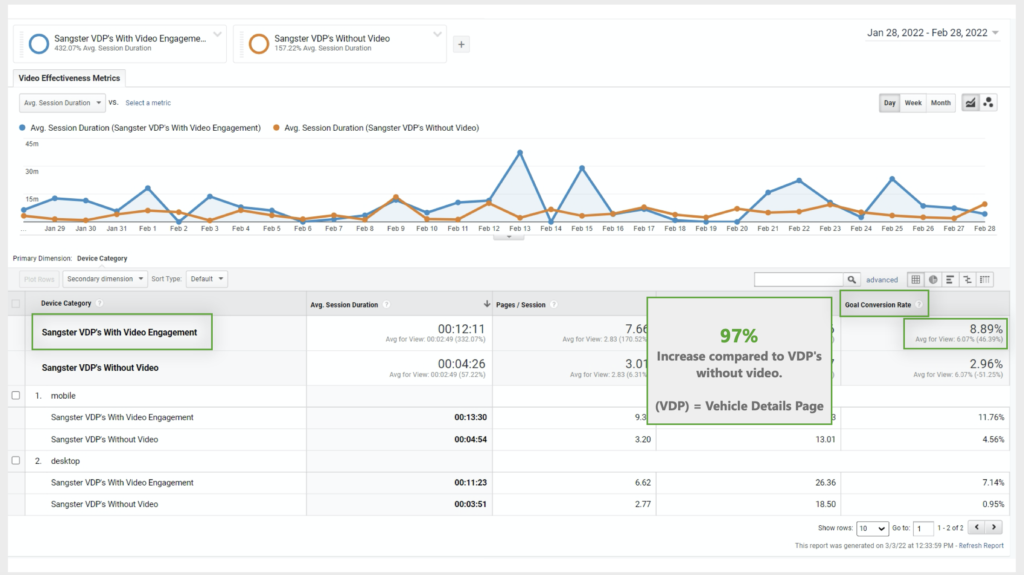 Take Action: Improve Your Website So Car Shoppers Become Car Buyers
LESA encourages each car dealership to review their Google Analytics and compare the session duration, pages per session, events per session, and goal conversion rates to the rates with the multimedia player analytics we shared above. Multimedia can without a doubt improve your website, and convert car shoppers into car buyers.
The Bottom Line:
Using Google Analytics LESA proved that video is truly making an impact! Having a multimedia player such as the LESA multimedia can really help your car dealerships sell cars. It's an easy and affordable way to convert car shoppers into car buyers.
LES Automotive Multimedia: How Do I Get started?
Reach out to a representative today at https://www.lesautomotive.com/contact/
We'll help you setup a custom report in Google Analytics that you can use to compare your key GA analytics before and after adding video to your site.