LESA Video Merchandising Packages For Car Dealerships Simple and Drive Value for Website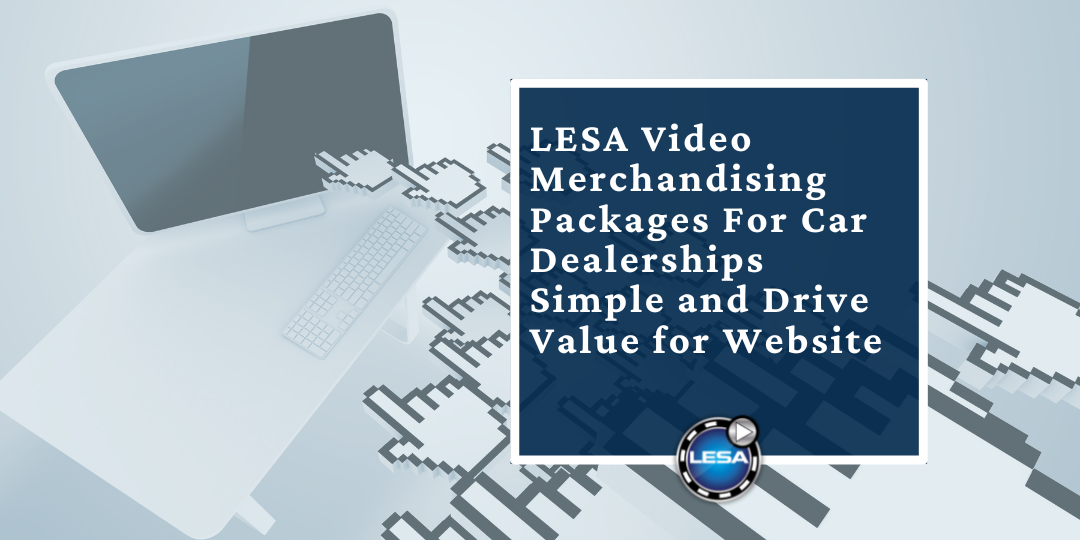 LESA has some great news! We have simplified our offerings into three packages which are simplifying the process for car dealerships when it comes to picking the best products to impact your website.
Due to customer demand, dealerships can now easily pick from one of the three packages that provide them with digital merchandising options depending on their goals and budget. Each offering is designed to give the maximum impact when it comes to adding value to your virtual showroom, and offer the best bang for your buck on the market.
Let's take a look at the three offerings LESA is offering, and the a la carte add-ons available to dealerships that want to customize their packages further.
THE PACKAGES
LESA offers three unique packages at different price points to help dealerships digitally transform. The packages are designed to add value to your website while staying affordable. We break down each of the packages and the benefits below.
Pro: The Pro package includes two essential digital merchandising features, Dealer Video Inventory and Ultra 360 Spin. This is a great starting point for dealerships that want to compliment their existing photos, but are in need of some digital transformation to keep up with the ever-changing automotive industry. Photos aren't enough to sell cars online in 2023 and adding ultra spin and vehicle walk around videos will help showcase your inventory in interactive and engaging way. Multimedia has proven to be extremely effective when it comes to selling online, and the Pro package is a great way to easily integrate multimedia with little maintenance.
Elite: The elite package takes it one step further by adding Feature Videos and Automated Social media in addition to what is included in the Pro package. This option is great for dealerships looking to increase purchase interest and brand awareness. Feature videos are very educational and make your website a hub for conducting all essential research on specific vehicles. Additionally, all your website content can be leveraged on social media by setting up automated social media posts increasing your reach and brand awareness with your target audience.
Ultimate: Your dealership can take it one step further with the the Ultimate package, which includes all the offerings from the Pro and Elite packages plus an extra tool to help your sales team and the opportunity to increase your visibility though a third party automotive shopping portal. Dealer Video Suite (DVS) allows your sales team to create personalized picture in picture vehicle messages for walk-around, thank you, testimonials, promo and reconditioning videos. In an era where online car shopping is starting to surpass in-person dealership videos, it's important for your sales team to still have a friendly and personalized approach to turn car shoppers into car buyers.
In addition to DVS, dealerships have the opportunity to put their vehicle walk around videos on Imagine Autos, a new and innovative video-centric car shopping portal which can increase dealerships reach.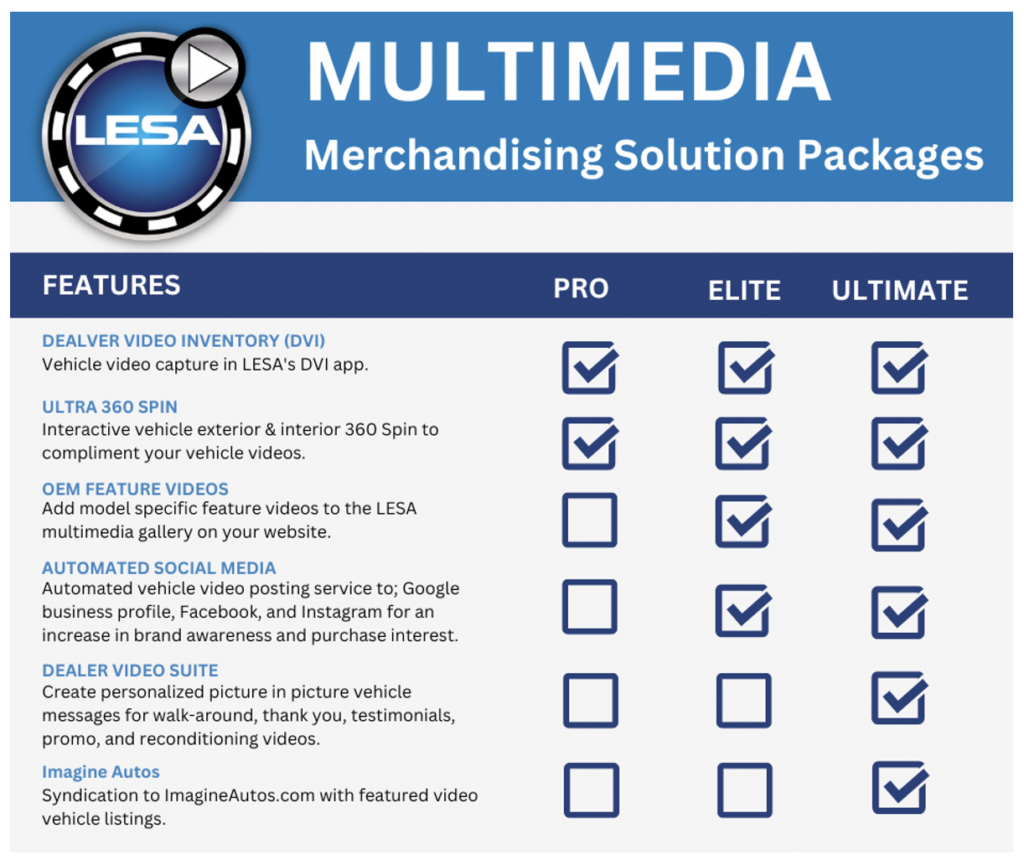 Pro Package
The pro package is the entry level package for car dealerships, and includes the following.
Dealer Video Inventory (DVI)- The Dealer Video Inventory (DVI) App allows your in-house photographer or professional lot services company to easily record walk around 360 videos of your car dealership inventory. For used cars, the video can showcase the condition of the vehicle which builds trust, credibility and customer confidence. Shopping for new cars has become a very personalized experience. Video can help consumers shop and browse custom features. The DVI app can help showcase all the different new makes and models helping consumers shop without having to go to multiple dealerships.
The Benefits: Having vehicle videos on your website can help your audience retain information, increase engagement and time spend on website, it's extremely cost effective and can help drive organic traffic with video SEO.
Ultra 360 Spin- Ultra 360 spin uses video technology to provide seamless and smooth visibility into the condition of the vehicle on the outside and the inside of the car. Ultra 360 spin technology scrubs video footage back and forth giving the car shopper the ability to view numerous angels of the vehicle with the swipe of a finger or click of a mouse.
The Benefits: The AI spotlight technology allows shoppers to easily zoom on important car details such as cup holders, buttons, tires, steering wheel, navigation and more. Ultra 360 spin technology offers a completely different and more transparent view of the vehicle making it easier than ever to successfully shop for a car from the comfort of your home, without missing any important details.
The Bottom Line: The Pro Package will equip your website with the tools it needs to transform to a multimedia experience. Car dealerships that provide a multimedia experience to online shoppers have seen increased engagement and time spent on website, which ultimately leads to qualified leads interested in your inventory.
Elite Package
The Elite package not only will provide your website with the multimedia experience that the pro package has, but it will also provide educational video content that dives deeper into the specific feature of the car. Plus, your dealerships can increase brand awareness by leveraging all the video content to social media platforms including Facebook, Instagram and Google My Business. This can save significant time and resources for dealerships as they no longer have to hire a marketing professional.
OEM Created Vehicle Feature Videos – Dealerships can easily add model specific feature videos to the LESA multimedia gallery on your website. Automotive manufactures provide featured videos to help shoppers understand the car in more detail. Although walk around videos can help give car shoppers great insight into the desired vehicle, featured videos provide in depth details about numerous elements of the car without having to search the Internet. The number of feature videos available varies by make and model. There are numerous video types including:
How-to videos
Vehicle feature highlight
Vehicle overview
• The Benefits: Now your shoppers can find all the vehicle info they need in one place, making you the automotive authority and increasing the likelihood of an in-person visit and sale. By the time they go to test drive the car, they know all the details it has to offer from the feature videos.
Automated Social Media -The new tool has the ability to automatically post walk around video content that is on your website to the social platforms including Facebook, Instagram and Google My Business. Car dealerships have the ability to create custom filters, such as new cars, old cars, etc which help them choose which vehicle video content will be sent to social media. For example, if you only want to post new 2022 Honda Accords at 9am every day, the tool has the capability to do that. LESA tools even have a video montage feature, which allows you to shorten the video to 30 second highlights making perfect content for social media.
The Benefits: It's a no brainer that car dealerships should create a presence on social media platforms such as Facebook and Instagram. Simply having a presence on social media can increase traffic to your website, build trust, and improve brand awareness. Social media can be especially useful when trying to target a local audience.
The Bottom Line: The Elite package takes the digital transformation process a few steps further by providing even more engaging video content and tools to leverage all your social media content across social media. Not only can your website provide an comprehensive multimedia experience to it's users, but it can also serve as an educational center to help car shoppers make informed purchase decisions.
Ultimate Package
In addition to what is included in the Pro and Elite packages, the Ultimate package is all encompassing when it comes to totally transformation your car dealership to a multimedia experience. Here's what it includes:
Dealer Video Suite- The Dealer Video Suite (DVS) app is a video toolbox for your sales team and BDC (business development center) team, bringing your dealership closer to your clients than ever before via personalized videos. Create personalized picture in picture vehicle messages for walk-around, thank you, testimonials, promo, and reconditioning videos.
The Benefits: DVS Provide your sales reps with unlimited marketing possibilities that can differentiate your car dealership from local competition.
Imagine Autos– The Ultimate package offers syndication to ImagineAutos.com with featured video vehicle listings. Imagine Autos is the premier video centric portal for the car buying experience featuring interactive spotlights and walkaround video with custom VoiceOver. The third party shopping website is similar to AutoTrader and Car.com but offers an elevated car shopping experience focused on video. Imagine Autos multimedia experience is growing in popularity with higher engagement rates compared to competition who only offer traditional methods with photo and spin. Imagine Autos leverages video SEO so your dealership listings can be easily found on Google searches giving your dealership greater visibility to help sell your inventory online.
The Benefits: Imagine Autos is the only video centric car shopping portal giving your car dealership a competitive edge and increased reach and visibility.
The Bottom Line: Not only is customer engagement on your website and social a priority with the ultimate package, but it allows you to leverage the content to create personalized videos for your customers and expand your reach online. As online car shopping continues to soar, it's important for car dealerships to find ways to reach their audience and connect with their potential customers in a customized way. Imagine Autos and DVS offer car dealerships a unique competitive advantage over competition.
A La Carte Add-Ons
In addition to the packages LESA offers, dealerships can also choose from a list of add-ons that compliment the packages.
Photo Capture in DVI – Capture photos in LESA DVI app. Includes syndication if needed.
Window Stickers – Print window stickers and buyers guides for used vehicles.
Photo & Video Cloning- Clone vehicle videos and photos to increase photo and video coverage.
Photo Background Enhancements- Automated background replacement of the vehicles exterior photos for used vehicles only.
Sellers Comments on VDP's- Automatically generated vehicle descriptions from our detailed voiceover scripts.
Real Offer – The most accurate cash offer and trade-in tool. Pairs excellently with KBB Instant Cash Offer Tool.
Photo Slide Insertion- Automated photo slide insertion into your vehicle photo sets for special events, promotions, sales, and finance specials etc…
Spanish Voiceover- Include a Spanish video button with real Spanish voiceover on your website next to your English video buttons.
Imagine Autos- Syndication to ImagineAutos.com with featured video vehicle listings
The Bottom Line:
Multimedia really works. In a competitive environment such as the automotive industry, your dealership can't afford to fall behind on important digital trends that are transforming the car shopping process. The transparency that video provides in the online car shopping experience is invaluable to consumers as it helps educate and influence purchasing decisions. Video mixed with other multimedia elements such as photos, audio and 360 spin is helping car dealerships convert shoppers into buyers.