The chip shortage has had a tremendous effect on the automotive industry. Although the auto industry only represents about 5% of the chip industry, the shortage cost the global auto industry about $210 billion in lost revenue in 2021, according to Alix Partners. There are steps that car dealerships can take to help sell new vehicles while in transit, thanks to LESA's photo library capabilities. Let's take a look into the chip shortage and how car dealerships can respond.
How Did the Chip Shortage Happen?
The crisis started back in March 2020 when the world was forced to shut down as COVID-19 was spreading rapidly. This forced automakers to shut down plants and temporarily halt orders from suppliers. While the shut down was taking place, this resulted in increased demand for cell phones, televisions, computers, games and home appliances as millions around the world were forced to stay at home. Chipmakers rerouted their supply to the industries that needed it most, like the electronics industry, as consumers were eagerly willing to pay more for the devices.
The automotive industry came back sooner than expected with the help of online shopping in the summer of 2020, resulting in chip suppliers being unable to provide products to the automotive industry.
What Does This Mean for Car Dealerships?
The chip shortage has created a few notable problems for car dealerships
Manufacturing delays: manufacturing delays is increasing the transit time of new vehicles. Many car dealerships don't physically have access to the vehicles but have the ability to start selling them due to the heightened demand for cars. How can a car dealership sell cars without physically having it? With the help of photos and videos online.
Increasing Popularity of Custom orders: Numerous consumers are willing to place custom orders due to the inventory shortage. Car dealerships need to be able to show customers the options since they don't physically have sample cars to show. There are typically hundreds of makes and models, so it can be difficult to showcase options without inventory.
No Inventory: The chip shortage is causing major inventory delays. No one wants to shop at an empty car dealership, so car dealerships need to equip their website with options for consumers whether they are custom orders or cars in transit. Having photos can help ensure your website visitors don't view an empty website.
LESA's photo library technology is helping bridge the gap between the problems car dealerships experience due to the chip shortage.
A Solution for Car Dealerships During the Chip Shortage in 2022
The chip shortage is causing numerous problems for car dealerships and equipping themselves with LESA's photo library with thousands of sample photos of hundreds of makes and models can be an easy way to help their car shoppers feel like they still have options while shopping.
Numerous car dealership websites will place a simple stock photo to account for cars in transit and custom orders on their website, but is this really helping shoppers browse their options? Or does it look like your car dealership has an empty website? LESA is able to provide a library of photos with neutral backgrounds so car shoppers can shop for vehicles while cars are in transit or when looking for custom order options.
Below are some of the sample pictures that LESA can provide for each make and model. Compared to the typical stock photo that car dealerships are currently using, the photo library gives much more detail and visibility into the car features by allowing car shoppers to browse through 20-30 car photos while the car is still in transit. Car dealerships can increase the likelihood of a shopper calling about a car with the detailed photo library.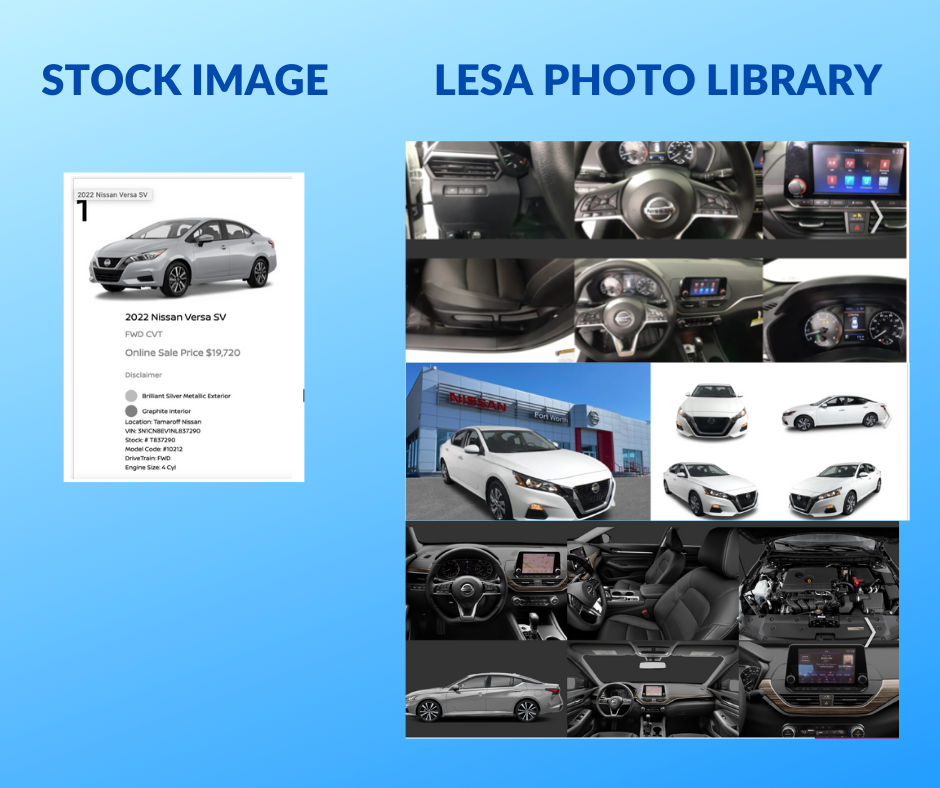 Get In Touch with a LESA Representative Today!
Speak with a LESA representative today sales@lesautomotive.com