Car shopping habits have changed significantly as shoppers are spending less time at the dealership and more time online. In fact, the average car shopper visits just 1.2 dealerships before making a purchasing decision. What does this mean for car dealerships? They need a strong online presence with multimedia features to help sell their cars.
Along with enjoying increased engagement and shares that multimedia provides, there is one powerful reason for including multimedia on your website- it is helping dealerships sell cars. Multimedia increases the time spent on your website which is aiding consumers in purchasing decisions and leading to the purchase of cars.
As online car shopping continues to soar, car dealerships need to be aware of the important benefits multimedia provides. LESA is helping car dealerships integrate multimedia options onto their car dealership website very easily with their LESA multimedia player.
What Does Multimedia mean to LESA?
Photos have been popular one the internet since the 1990s. In 2022, it is time for car dealerships to elevate and innovate with multimedia. Multimedia combines text, graphics, audio, 360 spin and video that let the user navigate, interact, create, and communicate.
LESA multimedia player takes on a custom and innovative approach to having multimedia on a car dealership website. The LESA player allows the dealership to have numerous different features for each vehicle, with little effort. The simple tool can help empower consumers to make purchasing decisions without numerous trips to the dealership. The bottom line: LESA's multimedia player is helping car dealerships sell cars.
Why Does Your Car Dealership Need Multimedia?
1) Multimedia increases time spent on website: Studies conducted by LESA have shown that having a multimedia player on their website can increase time spent on website by 50%. Increasing time spent on website is directly correlated to increased conversions. Your dealership will increase its ability to sell vehicles online with a multimedia player.
2) Multimedia can boost SEO: Search engines notice multimedia content more than anything else since it has greater impact on overall content. This is why it is important to add alt text to all elements you upload. Additionally, it is important to ensure your video is being streamed from a content video network so the video can stream without hesitation and quickly boosting your SEO.
3) Multimedia is better for branding: Since people these days have become tremendously visual; video is one of the most popular multimedia types you can see everywhere. Without these channels like audio, video and supporting images it is difficult to build brand recognition. Make it simple: online brand building requires utilizing every multimedia asset available these days.
Using LESA to Integrate Multimedia Features On Your Car Dealership Website
Over the past few years Americans have shifted from content readers to content viewers.
LESA is partnering with car dealerships around the United States to integrate multimedia content during the car shopping experience. The LESA multimedia player allows car dealerships to display photos, video, 360 spin, and featured videos to help educate and give transparency into the vehicle they are shopping for.
Not only is online video consumption at an all time high, but video content is also proven to influence purchase decisions of consumers. The pandemic has accelerated this process as shoppers want to research, shop and buy cars online rather than going down to the dealership.
The transparency that video provides in the online car shopping experience is invaluable to consumers as it helps educate and influence purchasing decisions. Video mixed with other multimedia elements such as photos, audio and 360 spin is helping car dealerships convert shoppers into buyers.
What Does LESA Multimedia Player Include?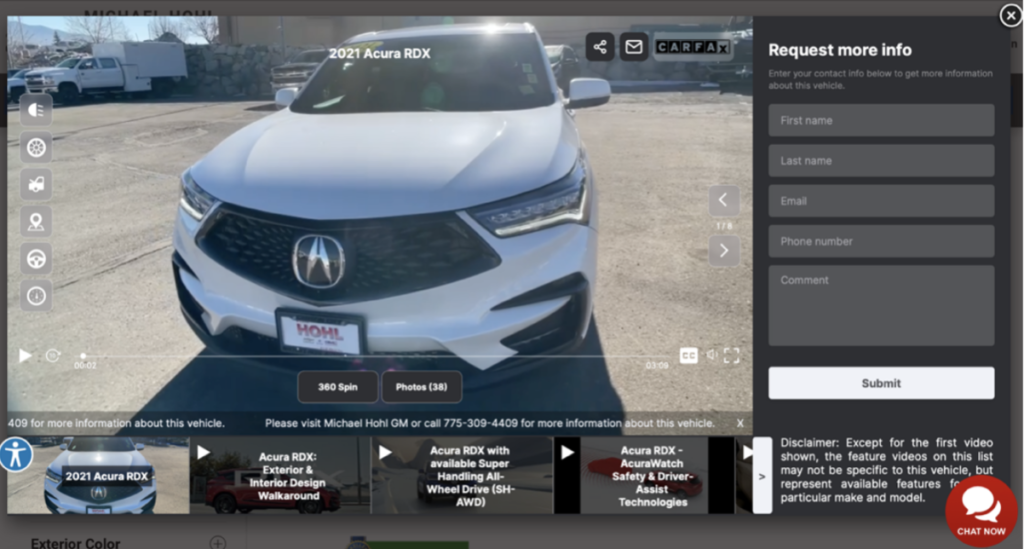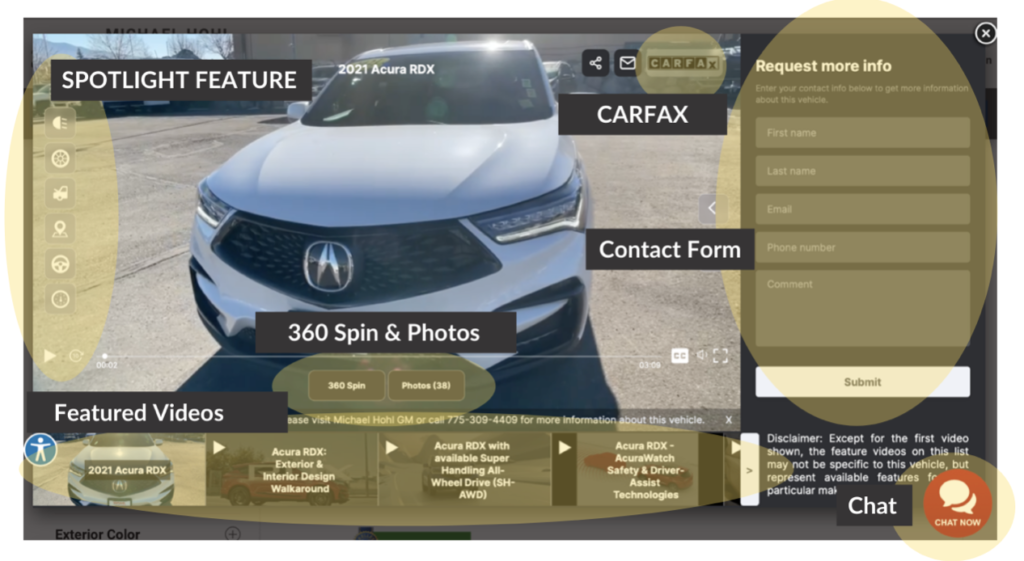 Vehicle Video
Car dealerships can easily record and upload a video to their website. The app allows you do easily add VoiceOver listing options specific to that vehicle, background music and more to enhance the videos to increase user engagement. The more time a viewer spends on a shopping page, the more likely they are to buy. People spend on average 2.6x more time on pages with video than without. Our full-motion walk-around videos have an 80% completion ratio average for a 2-minute video.
Photos & 360 Spin
Although consumers prefer video, sometimes they want to browse through photos or 360 spin. These features along with video can help aid consumers in the car shopping experience.
Spotlight Feature
The vehicle videos have spotlight features so shoppers can easily view the features of the vehicles that matter most. Easily view the headlights, steering wheel, tires, navigation and more.
Featured Videos
Featured videos help aid consumers in the purchasing decisions necessary to online shop such as gaining a deeper look into the interior design, all-wheel drive, safety and driver assist technologies, and numerous other vehicle features.
CARFAX Integration
LESA's multimedia player integrates with Carfax for those that have a Carfax subscription so shoppers can easily browse vehicle history reports to gain a better understanding of the car.
Contact Form & Chat Function
One of the main benefits of a multimedia player is getting online shoppers engaged. LESA's multimedia player allows car shoppers to submit contact forms on vehicles they are interested in and even chat with the team at the car dealership in just minutes online.
The Bottom Line: Multimedia is Powerful
Engaging users via the power of multimedia allows site owners to interact with their visitors more. Car dealerships should consider adding a multimedia player to their car dealership website as photos may prove to be insufficient in 2022 and beyond.
In our next blog, we will discuss how video content increases engagement and time spent on website with samples from some LESA customers.