The Importance of Videos for your Car Dealership Website in 2021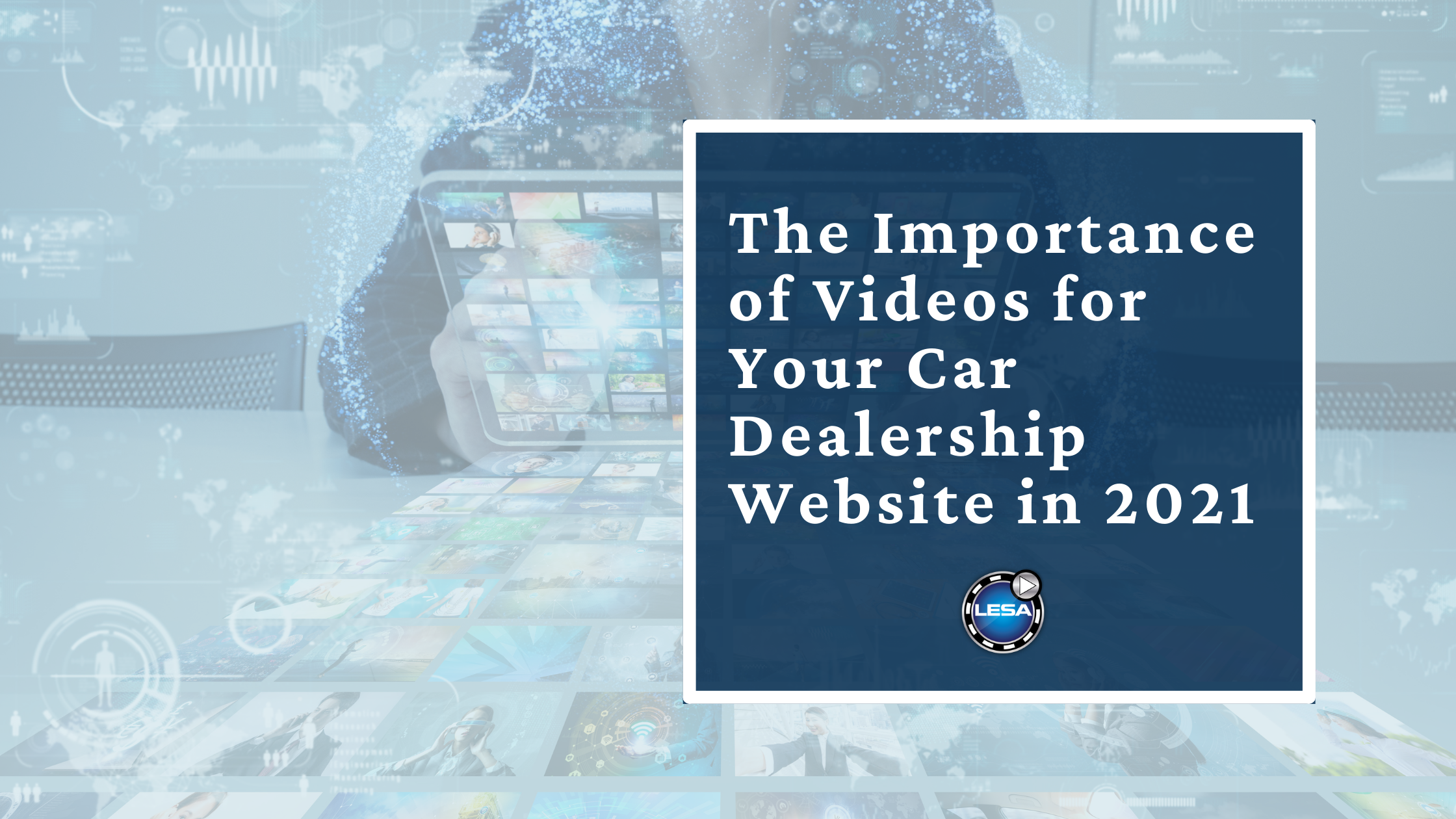 Since the emergence of the internet, it has changed tremendously over time. Not only has the internet changed, but internet user behavior has changed too. Over the past few years Americans have shifted from content readers to content viewers.
Love it or hate it, video content is the preferred medium for consuming information for a majority of internet users. In fact, it's only growing in popularity and dominating social media.
The automotive industry is also undergoing rapid transformation due to the implications of the pandemic, and car dealerships need to tailor an online strategy to the preference of the consumers they serve. If you are a car dealership looking to increase traffic and conversions, you should consider adding video content. Here's why…
The Human Brain and Video Content
90% of the information processed by the brain is visual. 80% of people remember what they see, compared to ten percent what they hear and 20 percent of what they read. Our brains are far more engaged by storytelling than a block of text or list of facts. It's easier for us to remember stores and make little distinction between an experience we are reading about and one that is is actually happening.
Videos have the ability to paint a picture much faster for your audience compared to an actual picture. In fact, videos have been found to improve learning by up to 400%. They affect learners on a cognitive level and stimulate imagination, therefore, enabling users to process the information faster. Studies have shown that the average viewer retains 95% of a message when they watch it, as opposed to a mere 10% retention rate when reading it.
The Growth of Online Video Consumption
Businesses around the globe are turning to online videos to help consumers grasp important messages about products, services, news, and more. In fact, the use of online videos has grown substantially over the past few years as data continues to prove that businesses and consumers prefer, digest and retain video content much more quickly than text and photos.
In fact, four times as many consumers would rather watch a video about a product than read about it. People are 85 percent more likely to buy a product after viewing a product video. Studies have shown that the average viewer retains 95% of a message when they watch it, as opposed to a mere 10% retention rate when reading it.
According to Statistica, the most popular online activities include: text messaging, checking email, and watching videos. Online video consumption is at an all time high, and your business is missing out on the action if your not providing video content to your desired customers.
Online Videos Influence Purchase Decisions
Not only is online video consumption at an all time high, but video content is also proven to influence purchase decisions of consumers. According to a survey conducted by Google, 68% of YouTube users watched YouTube to help make a purchase decision. Video will increasingly inform consumer decisions and connect businesses with people on the internet. Studies show that 92% of shoppers say visuals are the most influential factor affecting purchase decisions and that almost 50% of internet users look for videos related to a product or service before visiting a store.
Videos give consumers confidence and help them feel informed before making important purchasing decisions.
Why Online Videos are Important For Car Dealerships
Online car shopping is at an all time high due to the pandemic which forced consumers to change in person shopping habits. People prefer to conduct more research online and visit the dealership less, making it essential for car dealerships to have digital channels that help consumers make important purchasing decisions.
Additionally, as consumers have shifted to online research and online shopping for cars, they are equipped with the information they need resulting in quicker decision making. If a car dealership wants to get in on the action and make sure they are not overlooked in the car shopping process, it is essential that they provide shoppers the best and most transparent information regarding their vehicles.
How can car dealerships be sure they are not missing out on the online car shopping boom? Videos! The research above clearly shows that online consumers prefer videos. They provide the information and transparency in a quick and efficient way opposed to looking at pictures or reading text. In a competitive environment such as the automotive industry, it is essential that car dealerships are tailoring an online strategy to the preferences of the consumers they serve. Since so much time and research is spend online researching cars, car dealerships have a unique opportunity to provide valuable video content that is easily digestible to the consumer it's trying to win over.
How Can My Car Dealership Get Started with Videos?
Incorporating vehicle videos on your car dealership website has never been easier with LESA video technology. LESA is the largest dealer video inventory provider with 100K+ vehicle video views daily on our dealers' internet destinations — Dealer Sites, YouTube, Facebook, Cars.com, AutoTrader and more. Their video inventory, video suite and other video apps have been proven to increase traffic and conversions to car dealership websites. If you are looking to grow your business, look no further, LESA technology is right for you.
Interested in learning more about LESA Video Technology for Car Dealerships? Get Started and talk to a representative today!