Q: What's new in Facebook Marketplace listings?
A: Vehicle videos!
Ready for some good news? Facebook Marketplace has begun allowing the addition of video to its wildly popular Marketplace ad listings.
As the #1 merchandising and video lead response app creator, LESA is thrilled! This change means that we will now be able to help our customers leverage their vehicle videos more effectively than ever before by tapping into the audience of approximately 3 billion active monthly Facebook users.
Why is this important?
The data is clear. Video is where it's at when it comes to attracting shoppers, holding their attention, and ultimately providing them with the information they need to feel it's worth their time to visit your store.
You need to grab a potential buyer's interest before you will ever see them in person for a test drive. Nowadays, the car shopping process happens almost entirely online.
More than 80% of car buyers search for a new vehicle online before they ever even set foot in a dealership. And they visit only 1.2 dealerships before making a purchase.
And video plays a starring role!
60% of auto shoppers who used online video during the research process reported visiting a dealership or dealer website after watching a video of the vehicle they were considering.
Now, factor in the platform.
Facebook Marketplace has overtaken Craigslist as the premier social commerce platform among social media consumers.
CapitalOne Shopping Research reports that more than 51.2% of all social media consumers made their most recent social media purchase from Facebook Marketplace.
Almost 50% of time on Facebook is spent watching videos.
Next, consider the power of video to hold a buyer's attention and keep them focused on your vehicles.
Google Analytics shows that consumers who engage with videos on a website will spend three times more time on that site compared to those viewing a site without video. Not only that, but the goal conversion rate is also three times higher for customers engaging with video.
Video is simply an integral part of the modern merchandising process. Over a billion shoppers visit Facebook Marketplace monthly. So, to have listings on Marketplace that also include video is hugely advantageous.
Here's how it looks:
Facebook Marketplace looks and feels the same as before, except now desktop users can see which listings have video before clicking on a post, and mobile users are treated to more of a pleasantly engaging surprise.
The desktop version of Marketplace shows a video icon on ad thumbnails for listings that include video.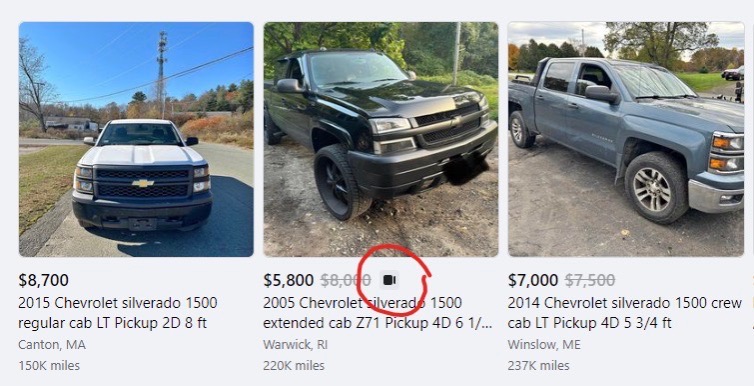 These video-enhanced ads stand out from the ads that have photos only. (The mobile version of Marketplace doesn't use the video icon…yet! But if a mobile listing has video, it begins playing the instant the post is tapped.)
When users click on an ad with video, the video begins playing immediately. A row of photo thumbnails appears below the playing video, so users can jump to those if they like, or back to the first thumbnail to restart the video.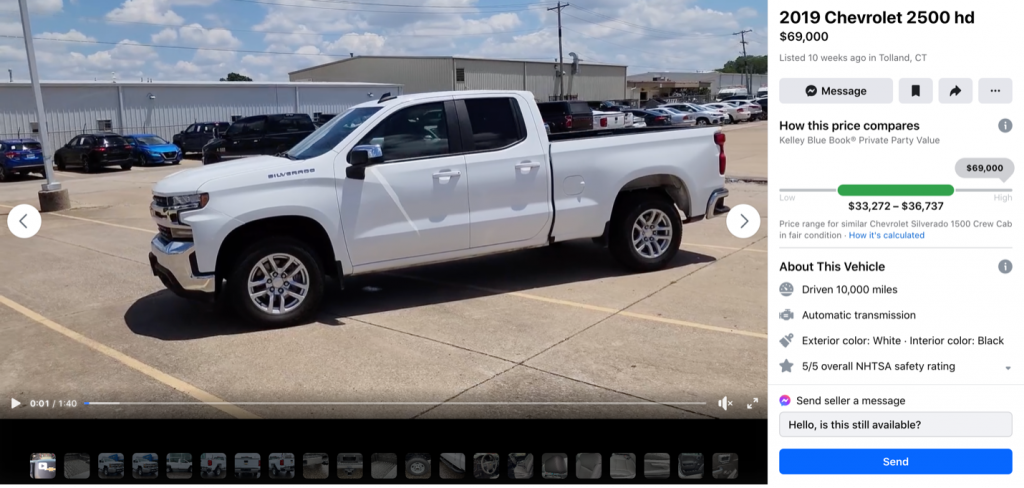 Both desktop and mobile versions have prominent Messenger buttons for contacting the seller, along with seller details, vehicle description, filters for vehicle type, condition, price min-max, and a customizable local search radius.
Users will notice some minor differences in filters between the desktop and mobile versions of Marketplace, but both enable search results to be narrowed efficiently.
We're here to help you add video to your Marketplace posts!
Video has become an indispensable part of dealerships' vehicle merchandising. The addition of video to Facebook Marketplace listings takes car dealers closer to the sort of comprehensive, multimedia experience that the data show is most effective at engaging shoppers online and ultimately converting them into buyers.
LESA has the expertise to help you take full advantage of the new ability to add vehicle videos to your Facebook Marketplace listings. Armed with our tools and knowledge of the process, your vehicles will stand out from the competition, and your sales team will be in the best possible position to capture qualified Marketplace leads.
Contact us to find out more and get the ball rolling.