Two Video Apps Helping Car Dealerships Showcase Vehicles and Boost Sales Online.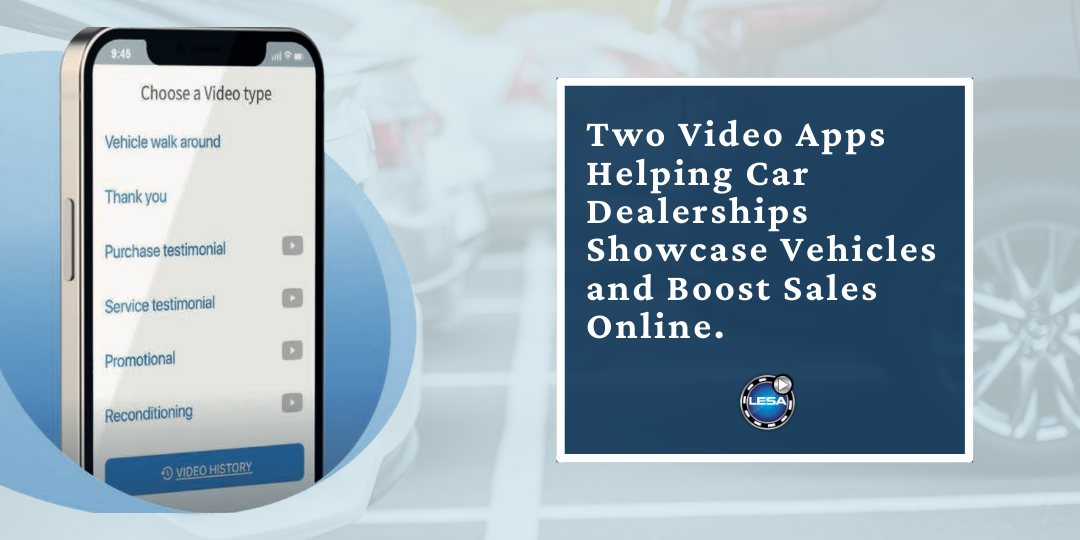 The last two years have pushed car dealerships to evolve focusing on digital channels and selling cars online. The transformation in the automotive industry came quicker than expected due to the push by COVID-19. As car dealerships continue to adapt and tailor their strategies towards online channels, they should be aware of tools they can use to help sell cars online.
LESA automotive offers two different video apps for car dealerships to help showcase vehicles online and boost sales online. Let's take a look at the apps and how each one of them can benefit your car dealership.
Dealer Video Inventory App
The Dealer Video Inventory (DVI) App allows your in-house photographer or professional lot services company to easily record walk around 360 videos of your car dealership inventory. For used cars, the video can showcase the condition of the vehicle which builds trust, credibility and customer confidence. Shopping for new cars has become a very personalized experience. Video can help consumers shop and browse custom features. The DVI app can help showcase all the different new makes and models helping consumers shop without having to go to multiple dealerships.
How Does It Work?
Your photographer can easily capture automotive videos, photos, and ultra 360 spins for your dealership's inventory in minutes. Not only can the app to shoot videos, but they can also take all photos on the app as well, merging both photographs and video into one simple solution.
Step 1: Scan the VIN
Find or add a vehicle instantly. Use the camera to easily scan the VIN. The app will automatically find the vehicle or you can add it to the inventory.
Step 2: Capture video
Record an HD full-motion walk around video and capture photos simultaneously. Add optional voiceover, background music and more after upload.
3. Upload to Website
Upload and syndicate your videos to your dealer website, social media channels and third-party providers within hours from smartphone.
The Benefits of the Dealer Video Inventory App
Recording Videos Has Never Been Easier: Your in house photographer or lot service company can easily record vehicle walk around videos and capture photos in just a few minutes. All you have to do is record the video on your mobile device, and upload and syndicate to your dealership website and third party providers. Additionally, the DVI app will automatically create ultra 360 spin and upload it to your dealership website. The app can easily capture photos, videos and ultra 360 spin in just minutes.
Videos Help Your Audience Retain Information: Viewers retain 95% of a video's message as compared to 10% if reading it in text. Emotions play a significant role in retaining information. Video allows the car shopper to be there without being there in person.
Increase Engagement and Time Spent on Website: The more time a viewer spends on a shopping page, the more likely they are to buy. People spend on average 2.6x more time on pages with video than without. Our full-motion walk-around videos have an 80% completion ratio average for a 2-minute video. This shows consumers are engaged and recognize the value that video provides.
It's Extremely Cost Effective: Video production can be extremely time consuming and expensive. Many car dealerships think that having vehicle walk around videos requires hiring a videographer which can cost thousands of dollars. LESA video inventory vehicles have changed that, making it easier than ever for your in-house photographer to shoot vehicle walk around videos. Not only can your photographer use the app to shoot videos, but they can also take all photos on the app as well, merging both photographs and video and 360 ultra spin into one simple solution. The photos and videos taken from each car are saved in the app and can be easily uploaded to your car dealership website in just two hours.
Interact with Features That Matter Most to Customers: LESA spotlight features allows consumers to view key highlights in the video and interact with features that matter most. Spotlight easily helps car shoppers identify the wheel, headlight, steering wheel, odometer/speedometer, navigation system in the video.
Drive Organic Traffic with Video SEO: Video SEO is an under explored aspect of SEO. Having video on your website allows google to drive traffic to your website.
Dealer Video Suite App
The Dealer Video Suite (DVS) app is a video toolbox for your sales team and BDC (business development center) team, bringing your dealership closer to your clients than ever before via personalized videos.
Types of Videos on LESA Video Suite
Vehicle Walk Around:
If you are using the DVI app to capture video walk around, you can leverage the library you already have to send personalized vehicle videos. What really makes this app effective is that you can send a video of a car to an incoming lead without the sales person having to leave their desk to shoot the video. However, if the sales team wants to go out and capture and send a vehicle walk around instead of using the library they can do it on the DVS app. The app easily allows you to send a video of the car of interest in addition to custom branding, custom VoiceOver, background music, and more.
The picture in picture features allows sales rep to put a recorded video of themselves on vehicle video, allowing the potential customer to see the car and sales person in one video.
Let's face it, most consumers hate the sales tactics used by car salesman and feeling pressured into buying a car when they are at the dealership The picture in picture helps establish trust increasing the likelihood of the consumer visiting the dealership and the eventual purchase of a car. Additionally, the sales team can upload the video to a dealership branded landing page which can then be emailed or texted to the recipient.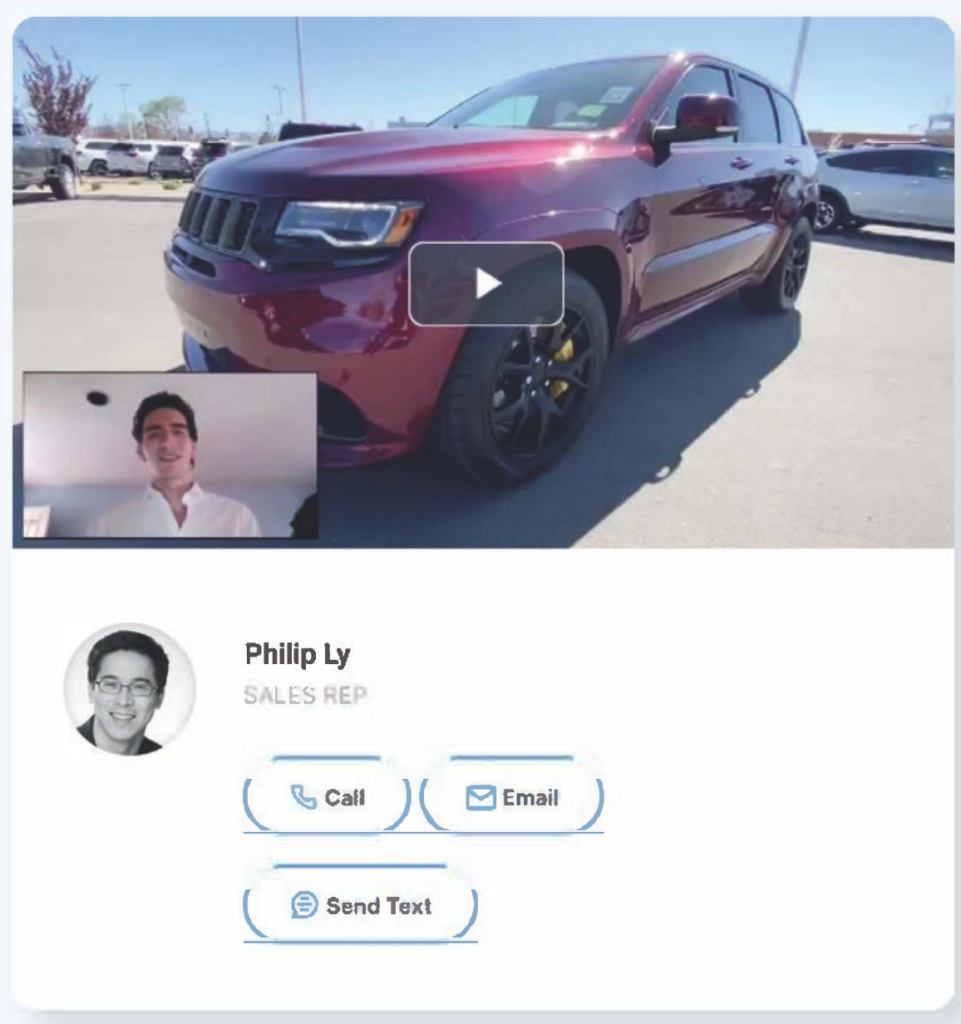 Vehicle Testimonial
The Vehicle Testimonial feature allows you to capture positive customer reviews during the delivery of the vehicle and before they drive off the lot. The DVS App allows sales reps to shoot positive customer review videos and share them on your dealership's social media channels such as YouTube, Facebook and Twitter.
In a competitive environment, reviews are very important. Numerous consumers search for dealership reviews before committing to purchasing a vehicle, to ensure other consumers had a positive experience. LESA video suite uses proprietary SEO video techniques once the testimonial video is uploaded to your car dealership website to ensure your reviews are being found on Google. If a potential customer searches "your dealership name" and "reviews", the testimonial videos will come up at the top of the first page of Google.
Promo Videos
Almost 50% of internet users look for videos related to a product or service before visiting a store. The promo videos in the DVS App allows you to easily create promo videos with our app and instantly publish to your dealer website without involving the website provider.
For example, if your car dealership is running a Fourth of July special you can create a custom promo video and tailor it to any make or model applicable to show up after the vehicle video on the car dealership website. The app even allows you to select an end date, so the promo video will automatically disappear off your website without having to go in and manually remove. The promo videos are so easy to upload, it removes the need to involve a website provider which can cost extra time and money. Additionally, you don't have to hire a professional videographer, the promo video can be shot entirely from a cell phone.
Thank You Videos
Every brand interaction leaves an impression. As a car dealership, you want to end the deal on a warm, fuzzy note to create customers for life. Thank you videos allow you to increase referrals and repeat business by adding a personal touch. It's a simple and smart solution to increase your dealership revenue.
Thank you videos also allow the car dealership to introduce the services department to their new customer. That way, if their vehicle needs any repairs they know who to call.
The Bottom Line: It's Time to Elevate Your Online Strategy
LESA is the largest provider of online video solutions for car dealerships with thousands of dealerships using their tools. LESA has the data that proves the success video can provide for car dealerships. Check out the study they conducted to learn more.