Keep Car Shoppers Engaged and On Your Website Longer with Research Pages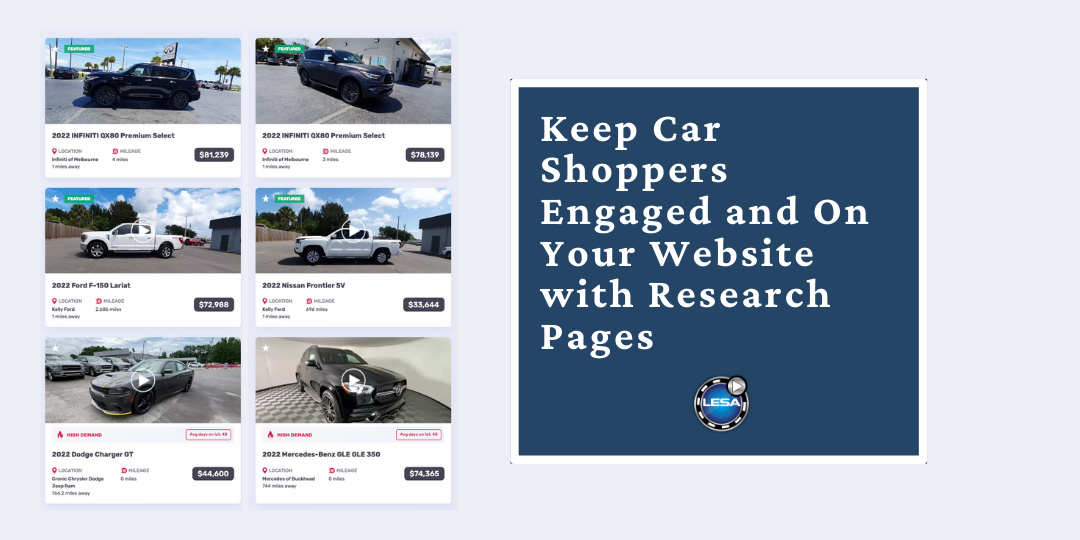 It's essential your car dealership website is doing everything it can to provide car shoppers a better and more efficient ways to shop for cars online. Online car shopping has soared in 2022 and it is expected to slow down anytime soon. How can your car dealership website stand out from other local competition? Research pages are a new LESA feature that can help educate potential car buyers and keep them engaged and on your website longer. Let's take a look at what research pages provide, the benefits and how to implement.
What are Research Pages?
Research pages are designed to educate car shoppers on important vehicle information for new cars. Car shoppers can find the vehicles they are interested in browsing with the help of search filters including make, model, year and trim. What makes LESA research pages unique? LESA is the first to implement research pages that are not just textual, but include video component helping car shoppers learn about the car and make purchase decisions.

Once you have entered information into the filters, the page will populate numerous feature videos. Automotive manufactures provide featured videos to help shoppers understand the car in more detail. Although walk around videos can help give car shoppers great insight into the desired vehicle, featured videos provide in depth details about numerous elements of the car without having to search the Internet. The number of feature videos available varies by make and model. There are numerous video types including:
How-to videos
Vehicle feature highlight
Vehicle overview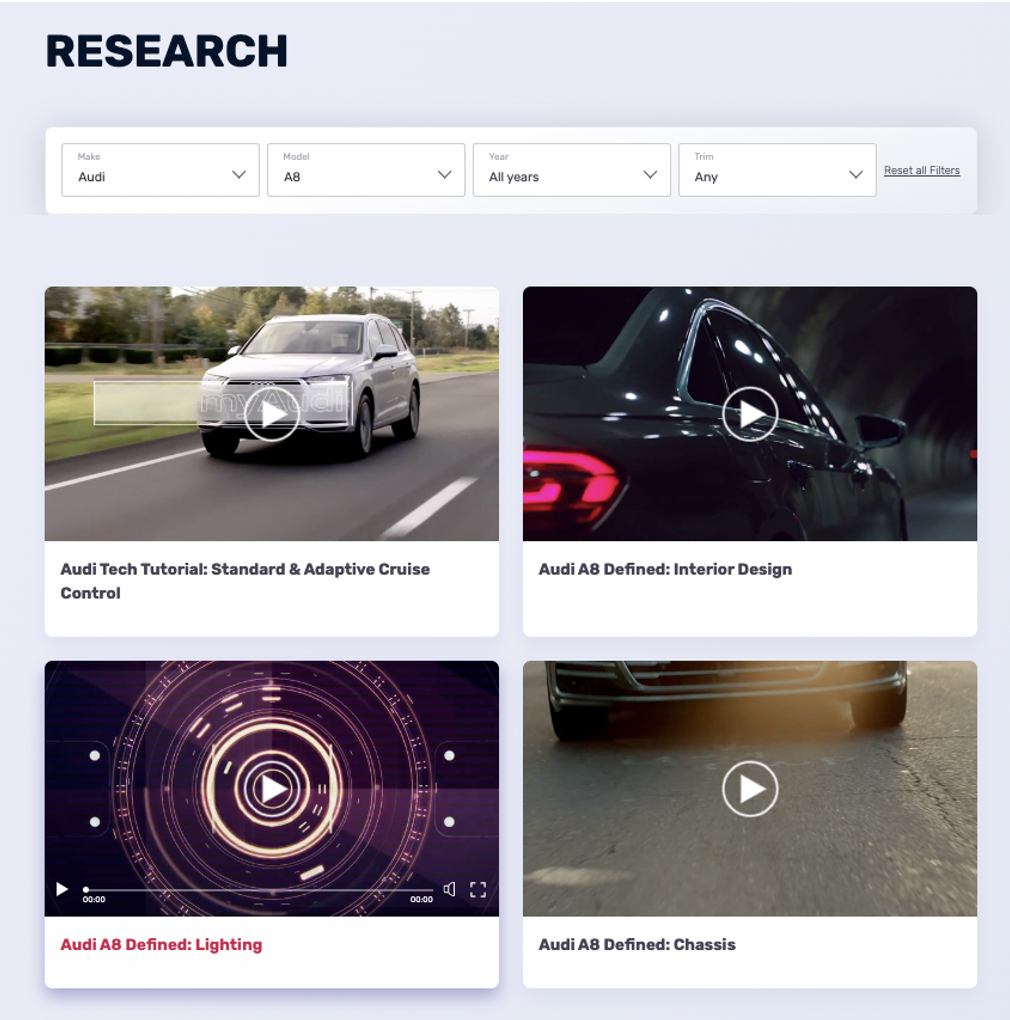 The Benefits of Research Pages
As online car shopping continues to grow, providing information to consumers is key to them visiting and purchasing from your car dealership. LESA is helping dealerships by giving them the ability to add video based research pages onto your website. There are numerous benefits to implementing research pages.
#1. Consumers can learn about vehicle features in one place
There's ample information on the internet about cars. Car dealerships should make it easy for car shoppers to find information all in one place to eliminate the need to search the web to answer all their questions. Research pages accomplish this, by having all the feature information in one place.
A research page not only benefits car shoppers, but also benefits consumers that purchased vehicles that want to learn more about the new features. With increasing technology, its hard to learn about everything the car offers, but a research page eliminates the need to pull out a car manual and learn about features of your car.
#2. Keep Car Shoppers on Your Website Longer
By equipping consumers with the information they need all in one place, you will find that shoppers are visiting your website more frequently and staying in your website longer. This directly increases the likelihood that they will either contact or visit your dealership in person.
#3. Research Pages are Unique and Can Set Your Dealership Apart
It's not always easy to make your car dealership website stand out from your competition. LESA research pages are a new feature that not many dealerships have taken advantage of. This can give your dealership a unique edge.
#4. It's Easy to Implement
LESA research pages are easy to implement. In fact, the LESA team can get it set up and running on your website without having to involve website designers which can be costly.
#5. Videos are Professional and Compelling
The videos on the research pages are professionally done and visually compelling. You don't have to hire someone to spend hours producing a quality video, and can have access to our library for numerous makes and models. When it comes to online car shopping, reading text isn't enough to get someone to take action and buy the car. They need as much detail as possible to initiate interest in purchasing.
LESA Can Help Your Car Dealership Implement Research Pages
LESA's technology can help your car dealership quickly implement video centric research pages to help your car dealership stand out from competition. Videos are highly educational and are helping convert car shoppers into car buyers as online car shopping continues to soar. Get started today! Contact Us