The Benefits of Customer Testimonial Videos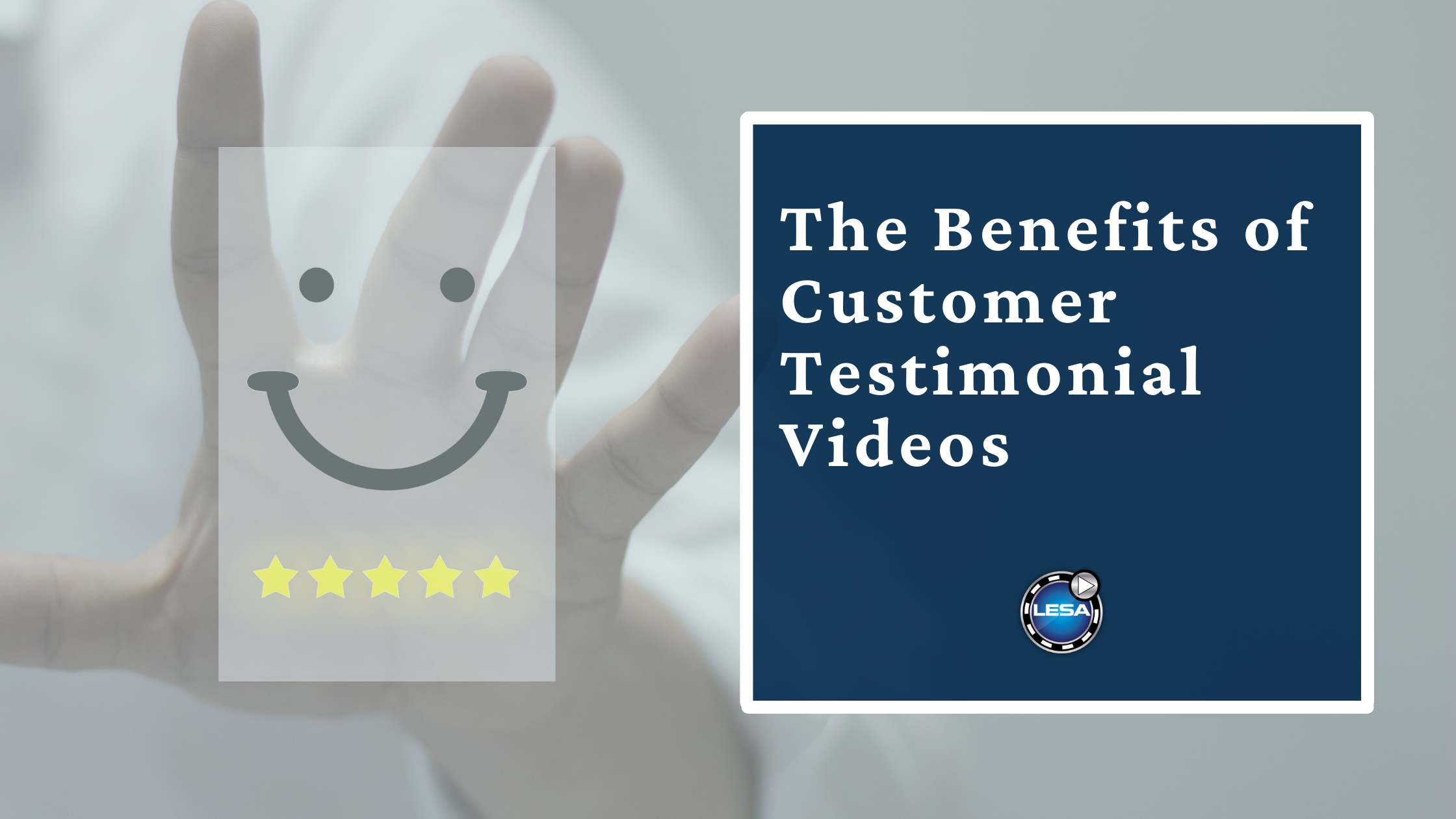 When it comes to car shopping, consumers have plenty of options in 2021. The new generation of tech-savvy customers typically perform a lot of research before making a purchase decision. In fact, 81% of consumers age 18-34 say they seek opinions through online reviews before purchasing any product or service, according to a recent report from Mintel.
As car shoppers do more online research and engage with social peers before making a decision to head into your dealership, online reviews can be extremely important to enhance your online reputation.
What Are Video Testimonials?
Video testimonials have become popular recently compared to written testimonials. In fact, 89% of marketers say video testimonials are the most effective content marketing tactic.
In short, a video testimonial is a video of a customer or client praising a company. In most cases, customer's will talk about how the car dealership helped them purchase their vehicle, the process, the team, and their positive experience of doing business.
Testimonial videos allow your clients to see other people talk about your products, giving an honest, unscripted opinion. It puts a face to your business and gives your brand the credibility it needs within your target group.
Why Are Video Testimonials Better Than Text?
If a picture is worth a thousand words, than a video is worth about 1.8 million. Videos offer numerous advantages over text, especially when it comes to testimonials. Although text testimonials can help your business, too, video has the ability to really make your car dealership stand out. Here's five reasons why:
People trust video testimonials
People remember video more than text
People prefer to watch videos compared to reading text
People share videos more than text
Videos help create an emotional connection compared to text
LESA Video Testimonial
LESA Video Suite helps the sales team at a car dealership easily create, record and publish videos without having to get video creators and website professionals involved, which can be extremely time consuming and expensive. Not only can the app create vehicle walk around videos, but it also can help dealerships create vehicle testimonial videos.
The Vehicle Testimonial feature allows you to capture positive customer reviews during the delivery of the vehicle and before they drive off the lot. The Dealer Video Suite App allows sales reps to shoot positive customer review videos and send them to potential leads or share them on your dealership's social media channels.
Why can't you record vehicle testimonial videos just on your smartphone? Well you can, however, there is much manual work that is required if you don't use the LES Automotive app. The LESA app allows you to easily create and publish the video through many different channels, including YouTube, Facebook, Twitter and any other social media channels. The LESA app is easy to use, will eliminate manual work in publishing and can save you time.
Important Benefits of LESA Video Testimonial Software
SEO
In a competitive environment, reviews are very important. Numerous consumers search for dealership reviews before committing to purchasing a vehicle, to ensure other consumers had a positive experience. LESA video suite uses proprietary SEO video techniques once the testimonial video is uploaded to your car dealership website to ensure your reviews are being found on Google. If a potential customer searches "your dealership name" and "reviews", the testimonial videos will come up at the top of the first page of Google, helping your dealership build it's online reputation and bring in new customers.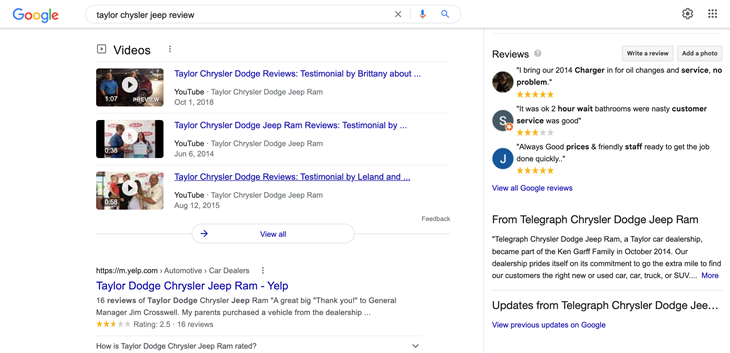 Help Bury Bad Reviews
Let's face it, every business gets a bad review here or there. It's extremely important handle these reviews as a priority, and respond to their negative feedback. Unfortunately, sometimes these negative reviews can stay at the top of the review results, making it difficult for your business to get new customers. LESA video testimonial can help, as video sometimes has the power to bury text results on the first page of Google, as Google continues to prioritize video results over text.
Power of Video
Video testimonials are very powerful as they show raw emotion and the real experience of other people. Text is not as influential as a personal video from a happy customer.
Only Need a Few
Many customers might be reluctant to hop on a video testimonial due to being camera shy, however, even if your car dealership can get video testimonials from 10% of your customers every month, this has outstanding impact on building trust and boosting SEO for your car dealership.
How Does LESA Video Testimonial Work?
LESA Video Suite helps the sales team at a car dealership easily create, record and publish videos without having to get video creators and website professionals involved, which can be extremely time consuming and expensive. Creating a testimonial video and distributing to your social media can be completed in four simple steps. Using a dedicated iPad is recommended.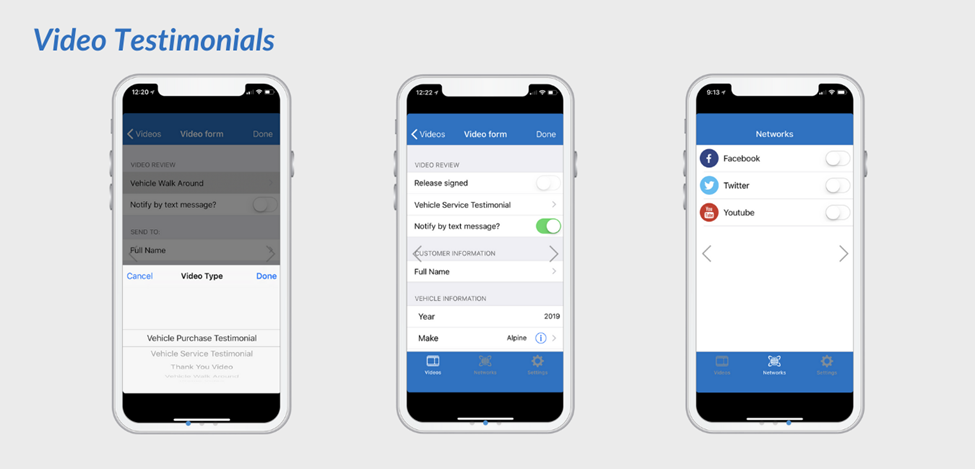 Select: easily select a full-motion video from your library, shoot one with the app camera, or select from your device gallery
Sign Release Form: Customers must sign a release form for video testimonial to be used
Target: Choose which social media platforms you would like the video to posted to
Send: Push send, and the video will automatically be distributed to the selected social channels.
Get Started With Video Customer Testimonials For Your Car Dealership Today
Get started with video testimonials today and contact: sales@lesautomotive.com