Introducing Real Offer: The Most Accurate Cash Offer and Trade In Tool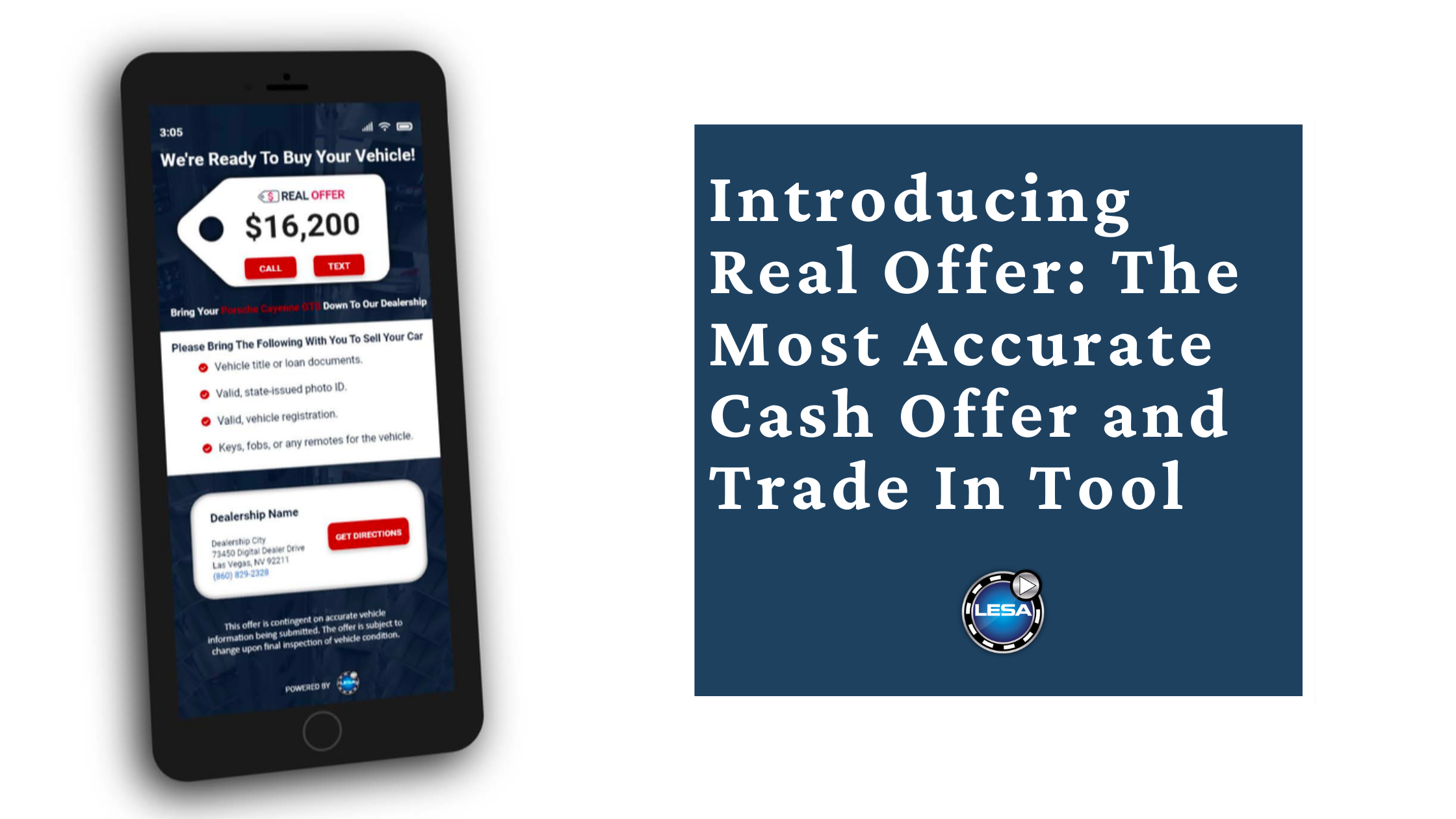 LESA automotive has announced the release of a new feature, Real Offer, to help tackle the issues of low inventory due to the the chip shortage. Although most of them are a little smaller than a coin the size of a quarter, the tiny semiconductor chips are bringing production of vehicles across the nation to a halt. Car dealers have barren parking lots, resulting in limited options for consumers in the market for a new vehicle as well as driving up used car prices.
How is Real Offer helping consumers? Let's take a deeper look into the car shortage, how it started, and how Real Offer is helping car dealerships around the nation.
A Look Into the Chip Shortage
The chip shortage was caused by the COVID-19 pandemic, which increased demand for the personal electronics such as cell phones and laptops that the chips are used in to the point where production could not keep pace with demand.
In the past when automakers experienced recessions, they were quickly able to cancel ordered parts with computer chips thinking autosaves would plummet. Although the sales of new cars did initially plummet, it quickly rebounded with pent-up demand and 0% financing offers. Also, car dealerships turned to the internet and figured out how to sell cars online and offer at home pickup and delivery.
So, when workers returned and factories reopened, the stronger-than-expected demand for new vehicles outpaced production and has yet to catch up.
As more Americans than ever continue to move away from cities into the suburbs, it has been hard for many to find or afford a vehicle. Since there is a shortage of new cars, many consumers are considering purchasing a used vehicle, however, we are starting to see a shortage of used cars as well. Let's take a deeper look at how trade-ins and traditional sources of used cars has been affected by COVID-19, and how LESA's new product is helping ease problems of the inventory shortage.
Traditional Way Car Dealerships Acquire Used Vehicles.
Dealerships traditionally get used cars two ways, through trade-ins and auctions.
Trade-Ins: Trading in your current vehicle at a car dealership may not be the best option for everyone, but it can be an easy way to part with it, especially when you want to buy or lease a new or used car. Essentially, what you do is sell your used car to the dealer, and the amount they pay gets taken off the value of whichever vehicle you want to buy. To start the process, all you have to do is go to the dealership you plan to buy or lease a new vehicle from and tell the car salesperson that you want to trade your old car in. After giving it a test drive and appraising its value, the dealership employee will make you an offer.
Auctions: Dealerships also acquire new vehicles through auctions. For example, Honda dealers may want to attend auctions to purchase used Honda's for sale from other car dealerships. This is typically how dealerships around the nation would acquire used cars to sell on their lot, however, as used cars have sky rocketed in demand, the big players are purchasing all the used cars at premiums, making it harder for smaller dealerships to compete for additional inventory.
The Problem with Traditional Trade-In Methods
The internet based dealership such as Carmax and Caravana have been aggressive in trying to buy cars from consumers for their website. They are doing this by offering cash for cars. Consumers enter some basic information and these websites are able to provide a cash offer in just minutes based off some generic information. The problem is that none of these tools request the consumer to submit photos or videos of the car resulting in a false sense of the value of your vehicle.
Typically, a consumer will bring the car into the dealership for review and they are disappointed to find that the value is much less than the number they received online. This can be extremely frustrating and disappointing for consumers. Not to mention, it can waste a lot of time if the consumer is not receiving accurate numbers the first time. LESA has launched a new tool helping the trade-in process become as accurate and seamless as possible as well as helping car dealerships compete for acquiring used vehicles.
The New Way to Trade In Your Vehicle
LESA announced the release of a new product, Real Offer. Real Offers provides the most accurate cash and trade-in offers by utilizing photos and video. Consumers have the ability to take detailed photos and videos of their cars in just minutes on their smartphones, which can be sent to car dealerships to receive the most accurate trade-in and cash offer.
Once you submit your videos and photos, the used car manager will get a notification on their smartphone that someone has requested an offer. They can review the vehicle photos and video, such as the tires, steering wheel, seats, etc. and can respond back with an offer. It gives the dealership the ability to make an offer as if they inspected the vehicle in person. Consumers don't have to waste time receiving inaccurate quotes and spending hours at the dealership during inspections.
The Benefit of Real Offer for Car Dealerships
As the car shortage continues, dealerships are looking to obtain new cars as the production on new vehicles has greatly slowed. Adding Real Offer to your website as a tool easily allows consumers to upload and submit vehicle videos to receive offers. Making the process as easy and accurate as possible may attract consumers to trade-in their vehicle with your car dealership. Real Offer is easy to use and has other benefits for car dealerships:
Web-based app: it works really fast and is simply a link that can be embedded on your website, Facebook ad campaign, and Google Ad words campaign. The more places you are able to embed the link, the more opportunities for consumers to submit offers.
Pair with Other Tools: Real offer works great with Kelley Blue Book instant cash offer tool. Kelley Blue Book is able to provide a basic range of value for the car, and then the car dealership is able to further assist with photos and video. Mr. David Stern from Michael Holh GM is using it in conjunction with the KBB cash offer tool.
The Bottom Line
Real Offer is helping car dealerships tackle the issue of the chip shortage, by giving consumers an easier way to trade in their vehicle with an accurate offer. Car dealerships are in the market for used cars, so adding an easy and seamless tool to your website to help facilitate trade-ins may attract new customers to your car dealership website and help car dealerships compete in the used car market.
Get Started with Real Offer
Get started with real offer today and contact: sales@lesautomotive.com