The Importance of Facebook Ads for Car Dealerships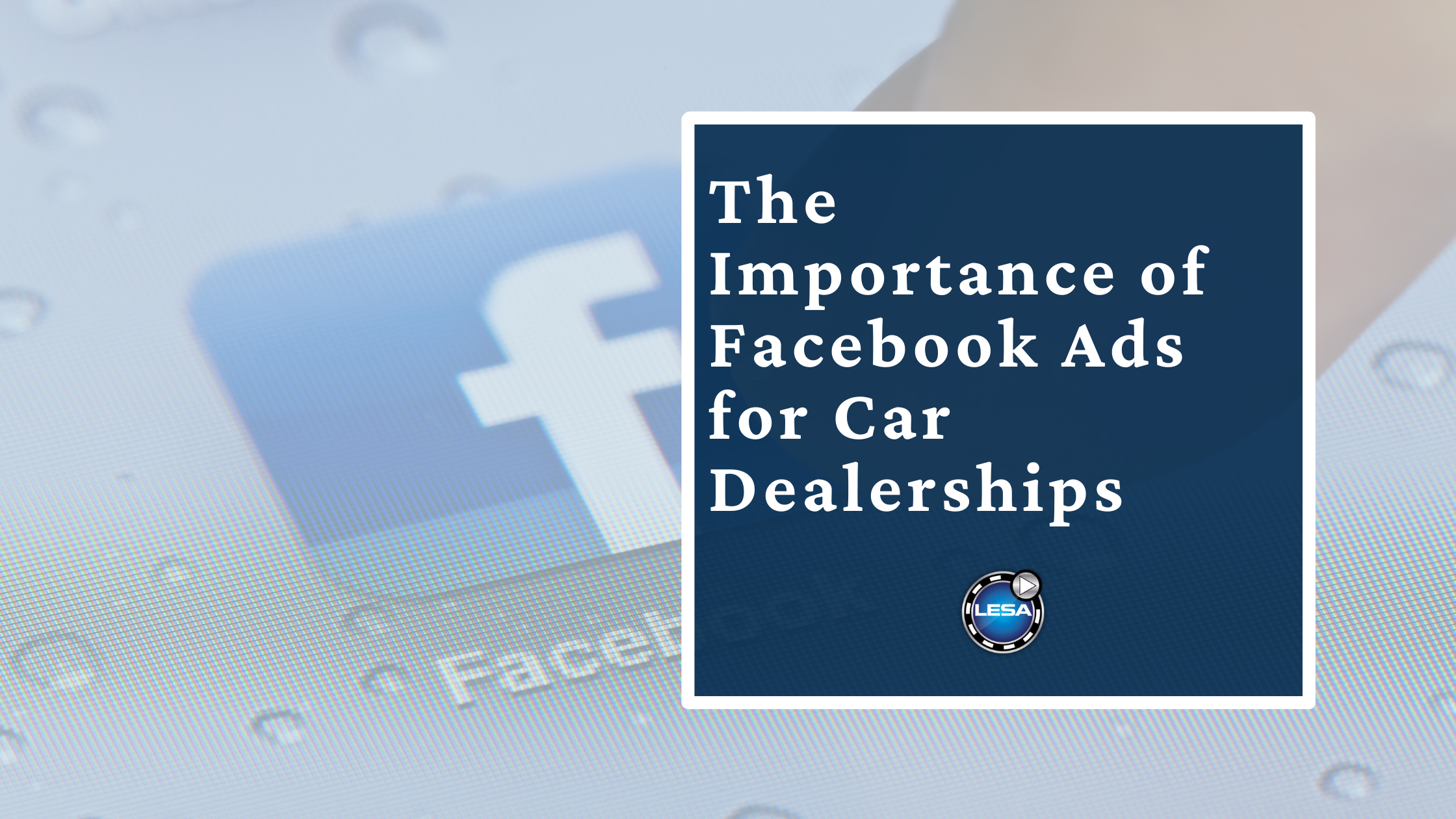 While online car shopping is at an all time high in 2021, car dealerships must find a way to communicate with potential shoppers.
More than 6 million companies are currently advertising on Facebook, with 67% of marketers claiming it to be their most important social channel.
Facebook ads is no longer an optional tool for businesses, especially businesses that are consumer facing. On average, roughly 75% of US adults spend at least 50 minutes per day on Facebook – it's certainly one platform that you cannot afford to overlook. Facebook is a great opportunity to get your car dealership in front of the eyes of millions of car shoppers.
What Can Facebook Ads Do For My Car Dealership?
Lead Generation
Facebook Ads can be used to generate leads for car dealerships. In fact, Facebook is extremely data rich, and the advertising platform allows you to micro-target the audiences that are best for your dealership. You can narrow down the demographic for every ad you run with segments that include:
Gender
Age
Location
Interests
Education
Job title
Income
Recent purchases
Major life events
Instead of using outdated cold calling and other failed marketing techniques, you can tap into the power of target Facebook ads to bring qualified leads to your dealership.
2. Won't Break the Bank
Like many other pay-per-click style advertising platforms, Facebook Ads are freely available to all businesses- and the Ads Manager tool is free as well. The only cost to the business is running the ads. The cost of running ads on Facebook is determined by numerous factors, but generally marketers should expect to pay anywhere from a few cents to a couple dollars per click.
The bottom line is you can set your own budget. Running ads will help you reach a significantly larger audience than your car dealership page would organically. If some months your marketing budget has to be adjusted, you can easily increase of decrease based on your situation.
3. Improve Brand Awareness
Brand awareness is an important part of any car dealerships long term marketing plan. Whether you are a new or established dealership, it is important to ensure you are constantly improving your brand awareness. Facebooks advanced targeting capabilities and brand awareness ad objectives, you can reach potential customers that are in the market for a new or used car. By continuing to improve their recognition of your brand through ads, you are actively working to ensure they choose your dealership over the competition.
What Type of Ads Does Facebook Offer?
Knowing where to start with Facebook ads can be difficult. After all there are many different types of ads that Facebook provides to its businesses. We have listed some of the ad types below:
Photo – These are static single images, plus a caption.
Video – Video ads range in terms of length and can be set to appear in-stream, in user feeds, or in Stories.
Stories – Stories are customizable ads that take up the whole screen. They can be videos or static images and tapping on Stories ads brings the user to your site (or whatever page you set).
Messenger – These ads appear between conversations on the Facebook Messenger App.
Carousel – Carousel ads are comprised of up to ten static images that the user can scroll through.
Slideshow – These ads show short video-like clips made with motion, sound, and text.
Collection – Collection ads showcase multiple products in a single ad, all of which can be individually interacted with by a user.
Playables – These are interactive demo games that users can preview before they download the app or game.
What Type of Ad is Best for My Car Dealership?
Static photo ads do not help educate and engage the consumer as well as videos. Facebook data has continued to show that video ads are becoming increasingly popular. They are better for engaging your audience and sharing valuable information, which is critical in the car shopping process.
Especially in a competitive environment such as the auto industry, it is important you tailor your content to the consumers you are trying reach. Most car shoppers are trying to learn something through their searches online, so video content is a great way to engage and educate potential shoppers.
How Do I Get Started With Dynamic Video Content for Facebook Ads?
With LESA dynamic Facebook ads, HD full-motion video ad content is tailored specifically to your inventory, changes based on a visitor's behavior, and leads a customer directly to a vehicle description page.
LESA video suites allows ads to be created based on any video in your vehicle inventory. Car dealerships can easily create multiple different ads for multiple target audiences based on their interests, age, location, etc.
When a viewer clicks on your video ad, they are transported directly to a video on the vehicle details page on your website so they can review the vehicle they are interested in learning more about. LESA video suite helps create these video pages to ensure your users are engaged and learning useful information about the vehicle which can aid in purchasing decisions.
LESA dynamic Facebook ads are automated, which can save your team time and effort as videos are automatically uploaded from inventory each day.
Getting started with Facebook ads doesn't have to be difficult, and although it may seem unfamiliar to your car dealership, LESA can help automate and streamline the process while delivering dynamic and engaging Facebook ads.
The Bottom Line
Facebook is an excellent social media platform to connect with potential car buyers. With 302 million US Facebook users, your business is missing out if you aren't using Facebook as a means to communicate with your target audience.
Facebook ads can be a lot to manage for car dealerships, but LESA video suite and dynamic Facebook ads is helping car dealerships streamline the ad process. In fact, car dealership around the nation are seeing the benefits of using LESA for dynamic Facebook ads, as their engagement is rising, clicks are coming through to the website increase, and qualified leads come in.
Let's Get Started: Dynamic Facebook ads with LESA
Video is what we do best. LESA is the largest dealer video inventory provider with 100K+ vehicle video views daily on our dealers' internet destinations — Dealer Sites, YouTube, Facebook, Cars.com, AutoTrader and more. We'd love to team up with your car dealership, please contact a representative for more information.