How Vehicle Walk Around Videos can Enhance Your Car Dealership Website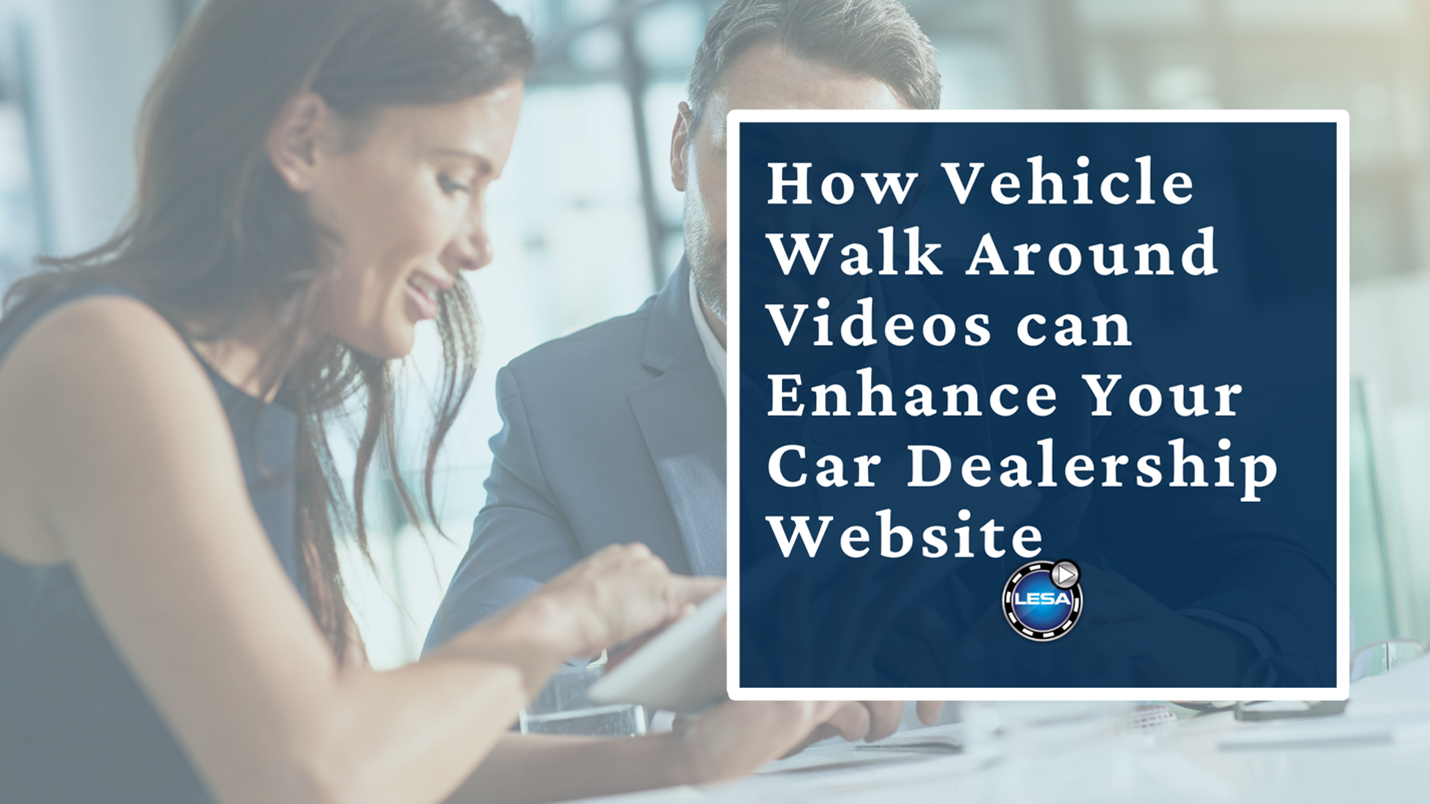 In 2021, customers will be searching online for the most accessible, accurate information about the vehicles they are interested in. By levering live video on your website in the process, you can help transform the customer journey by simplifying the research process and making it more likely they will purchase a vehicle from your car dealership.
Let's take a look at how vehicle walk around videos can enhance your car dealership website, and how to get started with video.
What are Vehicle Walk Around Videos?
A vehicle walk around video is when a sales rep records a 360 ̊ video of a vehicle, highlighting distinguishing features, color and condition. Personalized videos helps car dealerships develop a one-to-one connection with potential customers, in contrast to an impersonal email.
These videos can be can help potential car shoppers whether they are looking at a used or new car. For new cars, the video can showcase the latest model and what improvements were made to a previous version. For used cars, the video can showcase the condition of the vehicle which builds trust, credibility and customer confidence.
In a competitive environment such as the automotive industry, your car dealership website really can't afford to miss out on the benefits of vehicle walk around videos.
The Benefits of Vehicle Walk Around Videos
Recording Videos Has Never Been Easier: Your sales team can easily record vehicle walk around videos in just a few minutes. All you have to do is record the video on your cell phone, and upload it to the LESA dealer video suite app.
Videos Help Your Audience Retain Information: Viewers retain 95% of a video's message as compared to 10% if reading it in text. Video conveys visual cues like body language, tone of voice, and eye contact which are essential for drawing emotions and reactions. Emotions play a significant role in retaining information
Increase Engagement and Time Spent on Website: The more time a viewer spends on a shopping page, the more likely they are to buy. People spend on average 2.6x more time on pages with video than without. Our full-motion walk-around videos have an 80% completion ratio average for a 2-minute video. This shows consumers are engaged and recognize the value that video provides.
Easily Personalize Videos: LESA's dealer video suite allows for custom VoiceOver and background music to help keep the potential customer engaged. Custom Voiceover helps provide the shoppers with information that is essential in their purchasing decision such as detailed information on the features and technology of the vehicle.
It's Extremely Cost Effective: Video production can be extremely time consuming and expensive. Many car dealerships think that having vehicle walk around videos requires hiring a videographer which can cost thousands of dollars. LESA video inventory vehicles has changed that, making it easier than ever for your in-house photographer to shoot vehicle walk around videos. Not only can your photographer use the app to shoot videos, but they can also take all photos on the app as well, merging both photographs and video into one simple solution. The photos and videos taken from each car are saved in the app and can be easily uploaded to your car dealership website in just two hours. You don't have to hire an IT person to add videos to the website, eliminating another expensive cost of video production.
Interact with Features That Matter Most to Customers: LESA spotlight features allows consumers to view key highlights in the video and interact with features that matter most. Spotlight easily helps car shoppers identify the wheel, headlight, steering wheel, odometeter/speedometer, navigation system and the video.
How Do LESA Walk Around Vehicle Videos Work?
Creating and uploading professional videos doesn't have to take hours or cost thousands of dollars. Through the use of the dealer video inventory app, recording and uploading videos has never been easier. You can get started in three simple steps.
Scan the VIN: Find or add a vehicle instantly. Use the camera to easily scan the VIN. The app will automatically find the vehicle or you can add it to the inventory.
Capture: Record an HD full-motion walk around video and capture photos simultaneously. Add optional VoiceOver, background music and more.
Upload: Wirelessly upload and syndicate your videos to your dealer website, social media channels and third-party lead providers like cars.com and AutoTrader.
The Bottom Line: It's Time to Elevate Your Car Sales Strategy
In 2019, 72% of car buyers said they would visit dealerships more often if there was a better car buying process. Allowing car shoppers to stay engaged while learning on your website is a great way to convert car shoppers into car buyers. Video improves the car buying experience for customers and is the driving force behind getting the customer in the store to purchase the vehicle.
How Can My Car Dealership Get Started with Videos?
Incorporating vehicle videos on your car dealership website has never been easier with LESA video technology. LESA is the largest dealer video inventory provider with 100K+ vehicle video views daily on our dealers' internet destinations — Dealer Sites, YouTube, Facebook, Cars.com, AutoTrader and more. Their video inventory, video suite and other video apps have been proven to increase traffic and conversions to car dealership websites. If you are looking to grow your business, look no further, LESA technology is right for you.
Interested in learning more about LESA Video Technology for Car Dealerships? Get Started and talk to a representative today!