Why Videos are Important for SEO in 2021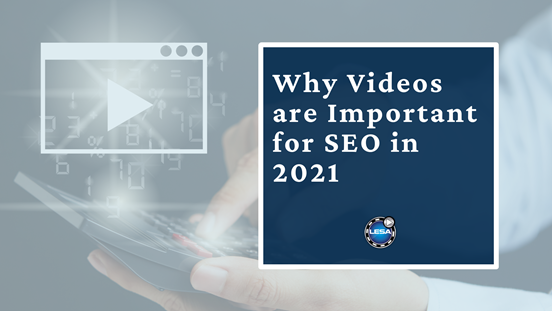 Online video consumption is at an all time. In fact, video is predicted to constitute 82% of all global traffic by 2022. This clearly shows how important video content will be in the near future and why you should incorporate it into your content mix. Video content should be an integral part of your content strategy and should play a key role in your marketing initiatives.
Having a clear video SEO strategy can help your website rank for relevant search queries and increase traffic to your website.
What is Video SEO?
Video SEO is the act of optimizing your videos to help them be more visible in the search engine results for relevant and beneficial keywords/queries to reach a wider audience base. There are many ways and optimization strategies to give your videos a higher chance of ranking. The basis of video SEO is aligning your internal content strategy with what the search engine algorithm is prioritizing. Although the algorithm is constantly changing and we don't have full transparency in what Google prioritizes, we do know that video is a powerful tool for SEO, and it'll continue to grow in importance into the future.
How Does Video SEO Differ From Traditional SEO?
Video SEO and traditional SEO are closely related in terms of their goals- having the optimized page or video to be more visible in the search results. The primary difference lies within which factors of the page or various details of the video you need to optimize.
How Does Video Help Boost SEO Rankings?
The google search results page has changed over time. Not only does it have textual results, but it also shows videos, related searches, people have asked section, ads and google my business pages. Many car dealerships make the mistake of only trying to rank for textual results, when in reality, there is less competition with video SEO and google is starting to prioritize video SEO on the search results page. As videos continue to gain popularity on the web, it is predicted that textual results will slowly begin to take less real estate on the results page, and video content will start to take more. Optimizing your video and getting them to rank is relatively simple and easy to get up and running fast.
Additionally, Google has been rumored to prioritize search results with video above results without video. In fact, when Google shows a video thumbnail next to a search result, which it does for 26% of search results according to BrightEdge, users are more likely to click that listing. Although Google has not confirmed this idea explicitly, many marketing experts agree that their SEO results suggest this theory is true.
Video content also helps other metrics that are important for SEO on Google. Two important metrics to consider when looking at SEO is time on site and backlinks. Video content almost always has the ability to improve both of these figures. Studies have shown that people spend over twice as long on a page with an engaging video then without. The higher quality and more engaging your video content is, the more likely you are to get backlinks which plays a factor in boosting SEO.
Appearing on the first page of google is crucial to help consumers find your car dealership. Google's algorithms are increasingly prioritizing websites with engaging video content, which is something car dealerships can't ignore in 2021 and beyond. 93% of online experiences start with a search on a search engine, so it is critical your business does everything it can to stay competitive and help consumers find what they are looking for.
Creating High-Quality and Engaging Video Content That'll Boost SEO
The key to using video as part of your SEO strategy is to take the time to make high-quality content that's aimed at a particular goal. You can boost your video SEO in no time by applying simple yet effective tactics to your video content.
Complement Video with Transcripts: Video SEO transcripts offer a number of benefits such as exposing a new number of keywords, improves user's ability to search topics within a video and makes content more accessible to a global audiences. Transcription is the process of converting the spoken content in video and audio files into text. This allows bots to crawl the information and have a deeper understanding of what the video page is about.
Add Closed Captions: Captions reflect the audio track and are meant to be read while watching the video. The process involves transcribing audio to text and then synchronizing small phrases with the video. A study by Discovery Digital Networks shows that captioned videos get more views compared to uncaptioned videos.
Give Your Video Some Context: Publishing a video to your website on a blank page is not going to do much for your SEO. In fact, it may even hurt your SEO as bots are unable to understand the purpose of the video. Be sure to embed your video where it makes sense, and surround it with other relevant and written visual content.
Don't forget the technical details: It is critical you enter the right information on the backend so search engine crawlers know how to categorize and prioritize your video. This could include various information such as title tag information, keywords in the description tag, tags, etc.
User Experience Is Still Highly Important Although we have references the importance of having a page and video setup so search engine crawlers can crawl at ease, it is still extremely important to focus on the user experience. At the end of the day, people have to be the priority over bots. The elements that search engines look for in content is only valued based off the perception of what they think people value. Prioritize having a page that is easy to use, navigate, understand, that is professional designed, high quality, credible and legitimate content.
Why Car Dealerships Need To Focus on SEO and Video Content in 2021
Car shoppers have never searched for more information online than they have in 2021. Consumers are visiting the dealership less, and conducting research online more meaning it is especially crucial that your car dealership website has an SEO strategy and video SEO strategy to rank on google. As we mentioned above, 93% of users begin an online experience with a search engine. It will be tough for your car dealership to stay competitive if you don't have a focused SEO strategy and videos are the perfect way to boost your rankings while also converting car shoppers into customers.
How Can My Car Dealership Get Started with Videos?
Incorporating vehicle videos on your car dealership website has never been easier with LESA video technology. LESA is the largest dealer video inventory provider with 100K+ vehicle video views daily on our dealers' internet destinations — Dealer Sites, YouTube, Facebook, Cars.com, AutoTrader and more. Their video inventory, video suite and other video apps have been proven to increase traffic and conversions to car dealership websites. If you are looking to grow your business, look no further, LESA technology is right for you. Interested in learning more about LESA Video Technology for Car Dealerships? Get Started and talk to a representative today!