Car dealerships can utilize their website content to add various types of content to their social media pages. Having dynamic video content on social media is an excellent way to attract car shoppers. Especially for Instagram, video content has recently soared in popularity.
LESA has created new automation technology that easily allows car dealerships to post their video inventory to Facebook and Instagram. The tool allows you to schedule posts for any time which will automatically post to Facebook and Instagram. This can help save your car dealership time while reaching a larger audience and sharing your inventory with more people.
How to Leverage Your Website Content for Social Media
Not only can your dealership have video content on your website, but you can also leverage that content and use it for social media. Many car dealerships are hesitant to get involved with social media posting as it seems confusing and time consuming. However, LESA's Facebook automation tool can allow you to easily populate content from your website across both Facebook and Instagram.
Although dealerships still utilize tools like 360 spin, 360 spin is not shareable content to social media. LESA walk around videos are the perfect content for both your car dealership website, and for your social media. If you don't have video on your website and are utilizing photos or 360 spin, we recommend starting with LESA walk around videos.
Why Should Your Car Dealership Use Social Media?
It's a no brainer that car dealerships should create a presence on social media platforms such as Facebook and Instagram. Simply having a presence on social media can increase traffic to your website, build trust, and improve brand awareness. Social media can be especially useful when trying to target a local audience.
In fact, research has shown that social media influences 71% of consumer buying decisions, which is another major reasons that car dealerships can't miss out on the big opportunities Facebook and Instagram hold.
LESA Facebook Automation Software
LESA social media automation tool is helping car dealership leverage their vehicle video content and automatically post to Facebook and Instagram. The new tool has the ability to automatically post walk around video content that is on your website to the social platforms. Car dealerships have the ability to create custom filters, such as new cars, old cars, etc which help them choose which vehicle video content will be sent to social media. For example, if you only want to post new 2022 Honda Accords at 9am every day, the tool has the capability to do that.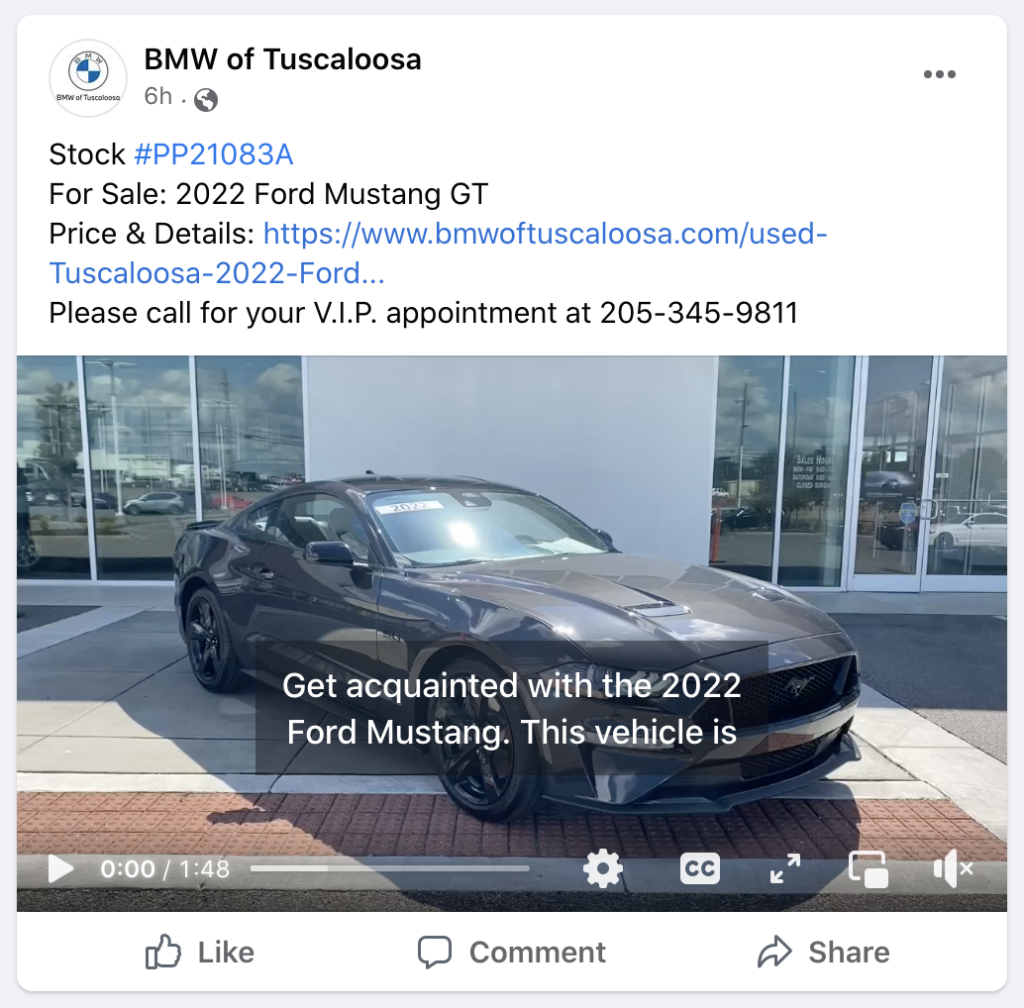 Our Tool Is FREE For LESA Customers
Without having an automation tool like LESA's, your car dealership would have to hire someone to help manage your social media pages, such as a marketing employee or relying on an ad agency. Our tool is currently FREE to car dealerships that utilize any of our LESA packages.
What Are the Benefits of Facebook Automation for Car Dealerships?
There are many benefits of using Facebook automation software for car dealerships. Especially dealerships that are
It can help you save time by automating repetitive tasks.
It can help you reach a larger audience by sharing your content with more people.
It can help you manage your Facebook page more effectively by saving time and allowing your team to comments and posts quickly.
It can increase your following as you leverage more dynamic and engaging content on your social media pages
Get Started With Social Media Automation
The team at LESA is ready to implement social media automation and share your website content today! Get started by contacting sales@lesautomotive.com